I like my cakes and cupcakes to be simple yet elegant in decoration. In my recent research for an awesome yet simple cake garnish, I came across Candied Dry fruits. These dried fruits are so simple to make. They also give a nice final touch to the cakes, cupcakes, ice-cream toppings etc.
Since Pears were in season, I used them to make the candied fruit. But there are lot many other fruits which can be dried and turned into candied fruit. But these candied dried pear slices are a must-try pear recipe!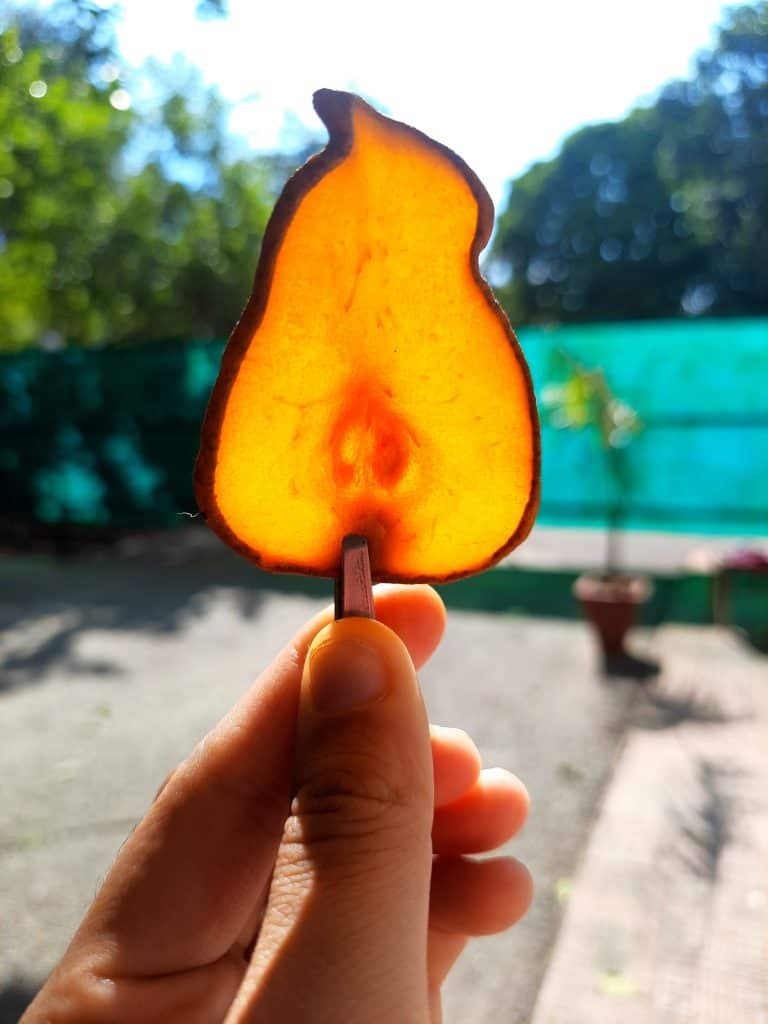 Ways to dry the candied fruit
Any of the methods you choose, please remember that it takes a bit of time to make the fry fruit. Hence, you can prepare these dry fruits ahead in time. Few ways to dry the fruit are:
1. Microwave/Oven: On a baking tray lined with parchment paper, place the fruit slices. Now, bake them for longer duration at the lowest heat possible.
2. Sun-drying: Place the fruit slices on a tray and leave them out to sun-dry. This process will take the longest. You have to ensure that the fruit is dried when it's a clear sunny day with the most sunlight.
3. Dehydrator: You can invest in a good dehydrator. (Buy it here) .This will fasten the process of drying the fruit. I used the oven at lowest heat 50-degree Celcius to 100 degrees for 3-4 hours most. You don't want them to over-dry and hard nor under-dry and squishy.
Other Candied fruits
I had used pear since they were in season and were easily available. You can also try candying fruits other than pear, such as:
Apple

Apricots

Banana

Blueberry

Cherry

Cranberry

Orange

Kiwi

Pineapple

Plum

Strawberry

Peach
Whichever fruit is available to you, you can dry them out and use as garnishes. Slice the fruit into thin slices and then dehydrate them. You can use any of the methods mentioned above.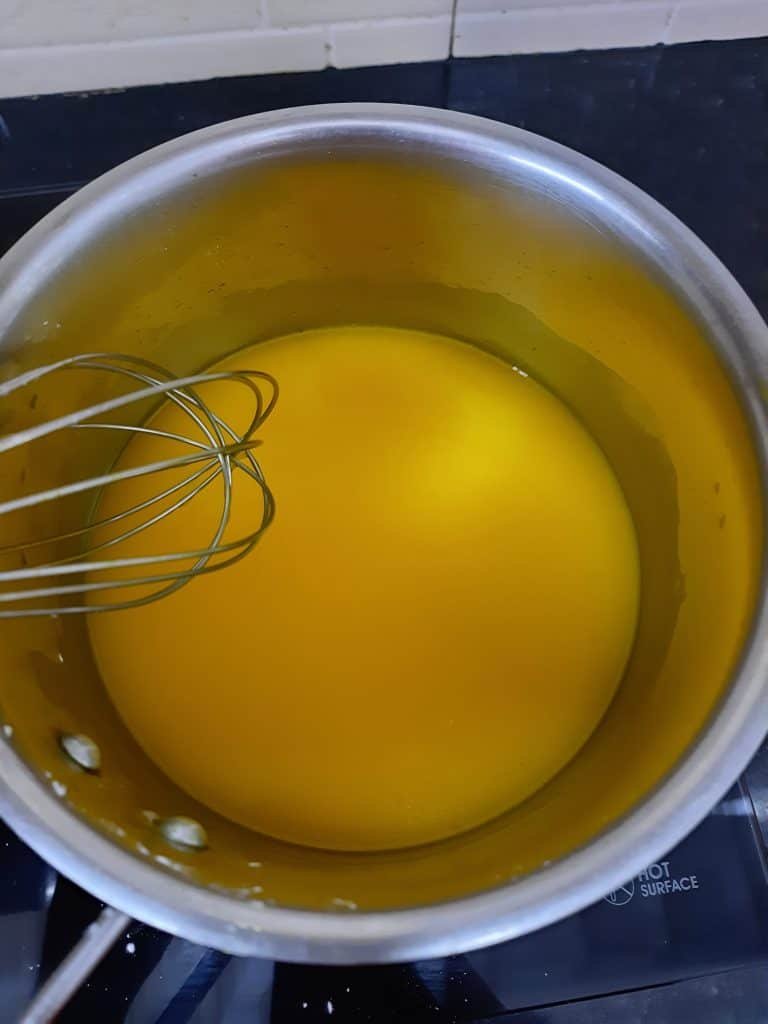 Colouring the candied fruit
Most of the fruits have their own bright colour. But certain fruits like, apple, banana, pear, pineapple are white from inside. On drying up, they also give a nice glossy and glass-like texture. But, if you want, you can add any colour of your choice.
I decided to give pear a yellow colour for which I used gel-based yellow colour. If you prefer you can also use any of the following:
Powder colour
Gel colour
Natural colour
Liquid colour
I added the colours in the sugar syrup and then dipped the slices. The slices then simmered in the syrup until they got colour on them. But, you can also add the colour before baking. Place the slices on a baking tray with parchment paper. On the slices put few drops of colour.
Please note that not all fruits need colouring. Food colouring the candied fruit is completely optional. Also, not all fruits are required to be dipped in sugar syrup. You can slice them in thin slices and dehydrate them without dipping them in sugar syrup.
How to use candied dried fruits?
Apart from using them as garnishes, you can use the candied fruit as follows:
1. In ice-creams
2. In your breakfast cereal bowl
3. As a snack. Sprinkle a little bit of salt and black pepper and enjoy!
4. In smoothies and shakes
5. In meat and cheese platter that pairs well with Wines.
6. In baking cakes, cookies etc.
Storing the candied fruits
Candied fruit dipped in sugar syrup will stay good for 6-7 days at room temperature. It must be stored in air-tight containers. Or you can refrigerate them in an air-tight box for 15-20 days.
But, once you start consuming these candied pear slices, you won't have much to store!!
How to make candied pear slices?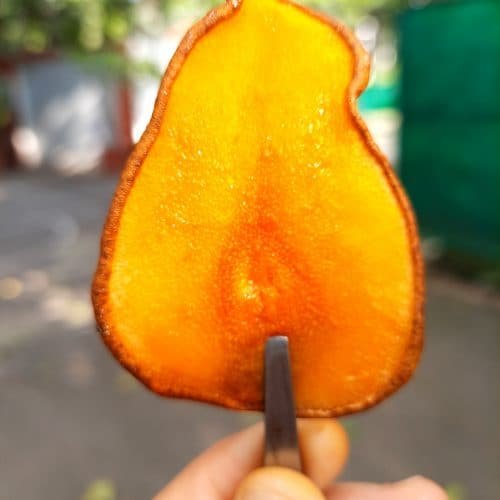 Candied Caramelised Pear Slices
These easy candied pearslices can be used to garnish a cake or cupcakes. They can also be enjoyed asit is. Super simple to make!
Ingredients
1

full

Pear

1/2

cup

Sugar

1

cup

water

2-3

drops

food colour of your choice
Instructions
Thinly slice the pearsvertically. Start from middle and then keep slicing till one end.

Make a simple sugar syrup by boiling water and sugar till sugar dissolves.

Dip the slices in the sugar syrup and let them simmer in the syrup on medium heat

You'll begin to see the colour setting onto the pear slices after 5-10 minutes

On a baking tray, lined with parchment paper, place the pear slices.

Bake the slices in the oven at lowest temperature for about 3-4 hours. Or till the sides of the pear are shrunken and the slices look dried out.
Notes
Use hard pears as the soft ones are little difficult to slice and will break once they are in sugar syrup.
I used oven temperature between 50-degree Celsius to 100-degree celsius for drying the slices. 
To conclude
So try out these simple candied caramelised pear slices. Also, which fruit slices you will use for your next garnish or snack? Do let me know!!
Happy Baking!!
Subscribe to Bakestermind.