I am always on the look-out for one-pot dishes. They are simple and quick to make. They also don't require too much preparation and taste amazing. You really don't need anything else to eat with Strata. As it is a full dish in itself! This past year, while searching for a quick one-pot dish, I came across Gemma Stafford's Bacon and Cheese Strata.
From then on, I have been making strata quite often. Although, I love the non-vegetarian version with chicken and eggs. The vegetarian option is also worth trying out. I am super inspired by the baking Goddess, Gemma Stafford. Here's my version of The Most Delicious Eggless Vegetable Strata.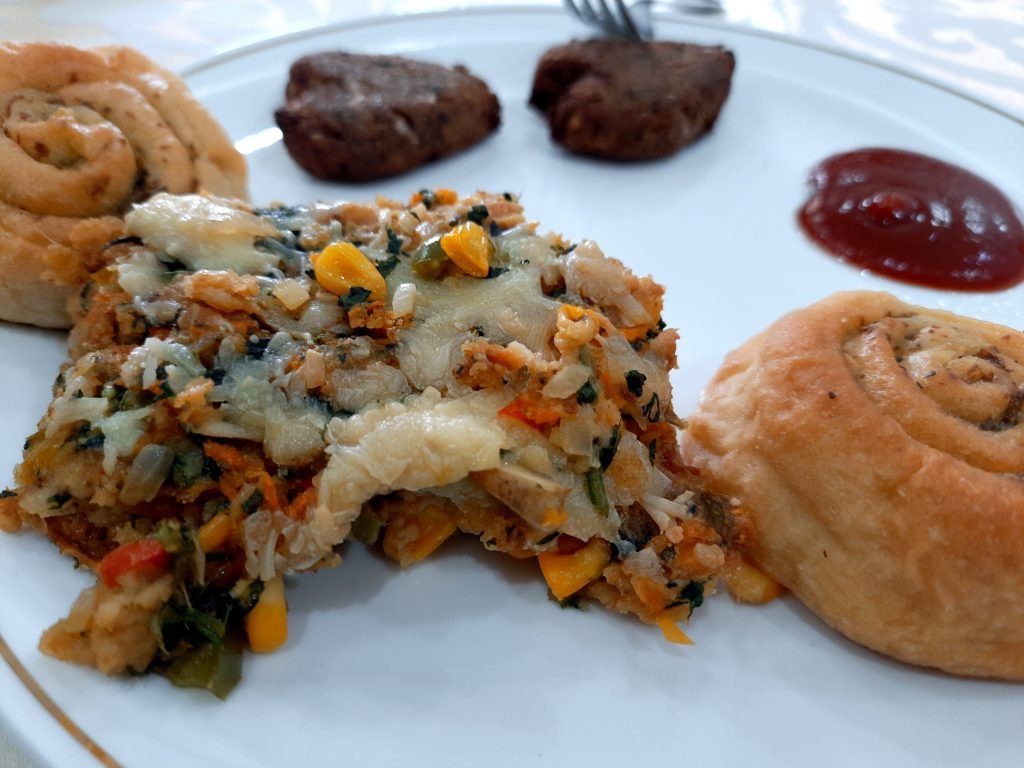 What is a Strata?
Strata is basically a layered dish, just like a casserole. It is somewhere between a crustless quiche and frittata. It mainly consists of custard, cheese, and bread. Vegetables and Meat can also be added to strata to make it into a wholesome dish.
What makes strata different from a quiche is that a quiche has a pie-crust base. Whereas, strata does not have a pie-crust base. There is a small difference between frittata and strata. Frittata is an egg-based dish with vegetables but it has no pieces of bread in it. However, strata bread pieces in the layers.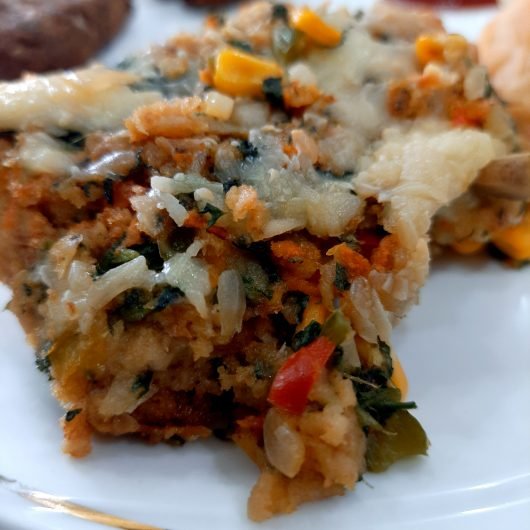 How to make Strata?
I am sure you will find this strata recipe really easy to make. Strata can be made both vegetarian and non-vegetarian. I tried out both the versions and both were yummy! The ingredients used in making this eggless vegetable strata are as follows:
• Cottage Cheese or Paneer: to make the custard
• Milk for the custard
• Cheese spread, again for the custard
• Loaf of bread: it should be 2-3 days old. Remember, stale bread will absorb the mixture more perfectly. The choice of bread is yours! Brown bread, white bread, multigrain any would do.
• Cheese: lots of cheese to give strata a creamy texture
• Assorted vegetables: a mixture of your favorite veggies
You can make the non-vegetarian version of Strata. For that you have to use the following ingredients:
• Eggs for the custard
• Cheese
• Bread
• Chicken or meat of your choice
To make the custard using eggs, whip up the eggs with a whisk. Eggs need to be slightly beaten and not whipped until they are stiff. For the vegetarian version of the custard, you need
1. Cottage cheese or 'paneer'
2. Milk
3. Cheese spread
Using a mixer or blender, blend the milk, cottage cheese and cheese spread together. The custard should look smooth and creamy.
Most of the vegetables I used were chopped and sauteed lightly in oil. Some of the popular vegetables that I used for my eggless strata are as follows:
• Mushroom
• Corn
• Onion
• Red Capsicum
• Yellow Capsicum
• Green Capsicum
• Spinach
• Olives
• Carrots
Strata is essentially a layered dish. But here I only have one layer topped with grated cheese. To make it a layered dish, you need to
1. Mix the bread with custard
2. Mix the assorted vegetables
3. In a baking dish, add a layer of bread-custard mix, add the vegetable layer, then grated cheese.
4. Repeat step 3 again.
Does Strata have to sit overnight?
It's better to prepare the strata night before consuming it. If it sits overnight, the bread would completely soak up the custard. This will enhance the flavor of strata. What I like to do is prepare the strata a night before. The next morning, I put the strata for baking, and voila! I get the yummiest, most wholesome breakfast.
However, if you don't want to keep it overnight, it's absolutely fine. Give the strata a resting time of about half an hour and you are good to bake it. You can make this vegetable strata ahead of time and chill it in the refrigerator. If you plan to bake it days later then cling wrap the strata dish and freeze it. The strata will stay good for 5-6 days when frozen.
Let's make the Eggless Vegetable Strata!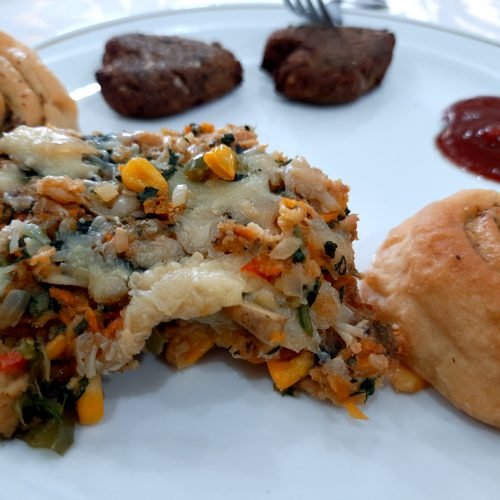 Eggless Vegetable Strata
Somewhere between quiche and frittata, strata is a one-pot wonder! This eggless vegetable strata can be assembled ahead and baked fresh. It only needs a custard sauce, vegetables, and bread!
Ingredients
For the Custard
300

ml

Milk

100

grams

Cottage cheese or paneer

(Grated)

20-30

grams

Cheese spread

plain or spiced any would do
For the Vegetable Mixture
50

grams

Corn

50

grams

Onion

50

grams

Red capsicum

50

grams

Yellow capsicum

50

grams

Green capsicum

50

grams

Mushroom

50

grams

Carrot

Grated

100

grams

Spinach
Other Ingredients
6-8

slices

Bread of own choice

Grated Cheese for Layering

Salt as per taste
Instructions
Chop and lightly sautee all the vegetables.

Make the custard by blending grated cottage cheese, milk and cream cheese. The custard should be smooth and creamy.

Chop the bread slices into 4 pieces. 1 slices into 4 parts

In a bowl add the chopped bread slices. Transfer the custard and mix it. The mixture must become paste like.

In a separate bowl, mix in all the vegetables. Add salt as per requirement.

Transfer the vegetable mixture in the bread and custard mixture and mix the entire thing.

In a baking dish, transfer this entire mixture and even it out.

Spread the grated cheese on top.

At this point, you can cling wrap unbaked strata and store it in the fridge. OR let it rest for atleast 30 minutes so the custard is soaked completely.

Bake the strata in a pre-heated oven at 180 degree Celcius for 20-25 minutes. The cheese should be melted and bubbling. That's when you know the strata is done
Notes
You can make a non-vegetarian version of it by using 3-4 eggs instead of making custard with milk. Use Chicken or Meat of your choice.
You can also make strata by layering it. 
The vegetables used here are popular ones. However, you can choose your favorite vegetables.
If you are not baking the strata in a day or two of making it then freeze it in the freezer. 
Baked Strata can be stored in the refrigerator for 5-6 days
Time to put your favorite vegetables in a strata!
Strata is certainly a one-pot dish. Assorted sauteed vegetables and bread soaked in Creamy custard and layered with cheese! Yep, that's definitely going to be your next breakfast, lunch, or dinner. So go ahead and make your version of Vegetable strata and don't forget to share with me on Instagram and Facebook. You can find me by the name Bakestermind!
Happy Baking!