One of the fondest memories of food from childhood is the Jim-Jam Biscuit. It is a soft biscuit with white vanilla cream and with fruit jam in the centre. The biscuit is topped with another biscuit with a hollow centre so that the jam was visible. I know most of you would agree that the humble Rs. 5/- to Rs. 10/- packet was a fantastic treat.
I remember when I was in the school hostel, one of my local guardians had given me a packet of jim-jam biscuit. I decided to eat one biscuit with evening tea each day. While keeping the packet in the cupboard, I thought of popping in just one biscuit. Within a few seconds, the whole packet vanished as I simply couldn't stop at just one!
I recreated the Jim-Jam recipe in my own style. Something which was quick, which required basic and minimum ingredients. Here are my shortcrust pastry jim-jam biscuits.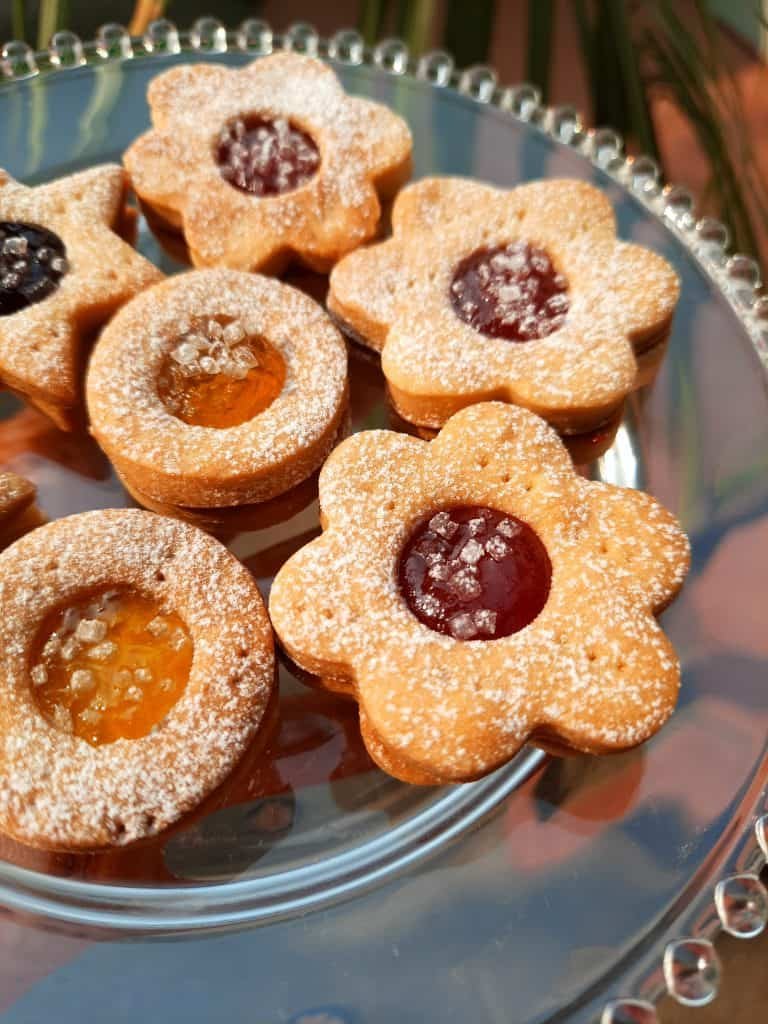 Tarts vs Biscuits
Mostly one would find shortcrust pastry used in making tarts and pies. Shortcrust pastry is used for making lemon tarts, fresh fruit tarts, jam tarts, apple pies, peach pies etc. But here, I have used the short-crust pastry to make jam biscuit. To make the biscuit:
Cut the biscuit in the desired shape
Fill it with jam of choice
Join the two biscuits together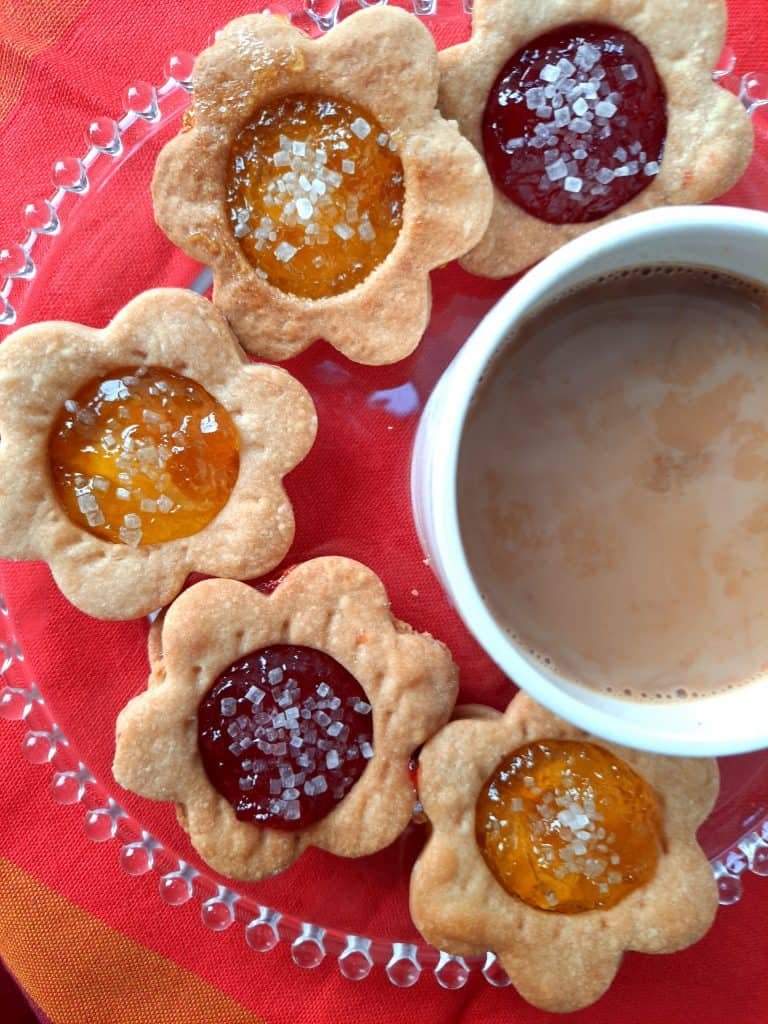 Why should you make these jim-jam biscuits soon?
Pâté Sucrée also known as sweet short-crust pastry should be next on your baking list. Here's why:
A quick fix to sweet craving: With a few easily available ingredients in your kitchen, these sweet short-crust jam biscuits can prove to be a quick fix to your sweet cravings.
Stuff them with jam of choice: I personally love regular mixed fruit jam. But these short-crust jam biscuits can use jam of your personal choice. Strawberry, Blueberry, Peach, Mango, Pineapple, Orange Marmalade or even good old Nutella!
Store the dough and make it anytime: After you have finished making the biscuit and are left with some dough, you can store it. Wrap the remaining dough with cling wrap and store it in the refrigerator for 6-8 days.
Ready-made dough: If you have a store-bought short-crust pastry dough, you can use that also to make the jam biscuits. The process remains the same: roll, cut, bake, layer with jam and stick together the biscuits.
Substitutes for ingredients of shortcrust jim-jam biscuits
If you are allergic to a certain ingredient or would like to substitute ingredients, you must see my post on Baking Substitutes and How to use them. You can make these jim-jam biscuits using substitutes.
Shortcrust Jim-Jam Biscuits
A childhood favourite recipe has been given a delicious, buttery twist. Make the classic jim-jam biscuits with shortcrust pastry using the jam of your own choice.
Ingredients
240

grams

All-Purpose Flour

1/4

tsp

Baking Powder

120

grams

Salted Butter

cold

2

tbsp

Honey/ Powdered Sugar

5-6

tbsp

Water

ice cold

Jam of own choice

to be used for filling the biscuits

Granualted Sugar

for garnish

Icing Sugar

for garnish
Instructions
In a bowl, add all-purpose flour, baking powder and mix it.

Cut the butter in little cubes as smaller pieces will blend faster. Add the butter in flour mixture.

Using your finger tips, gently rub the butter in the flour mixture till it resembles a crumbly texture.

Add, honey and Ice cold water to the mixture.

Start kneading the mixture till it comes together as a soft dough.

Wrap the dough, using a plastic wrap or a cling wrap and chill the dough in the refrigerator for 30 minutes.

Take the dough of the refrigerator. Lightly dust your work area with flour.

Roll out the shortcrust dough using a rolling pin. Keep lifting the dough and dust flour under the rolled dough if it sticks too much.

Roll the dough thin roughly to ¼  inch  thickness. Using cookie cutters of your choice, cut the biscuits.

One a tray lined with parchment paper, Place the biscuit on the tray little away from each other.

In alternate biscuit, cut out the centre using back ofpastry nozzle. This is to make pair of the biscuit.

Using the fork prick the biscuits a bit so that the biscuits don't puff up too much.

Bake the biscuits at 180 degree celcius for 15-20 minutes or till baked with slight brown colour.

Cool the biscuits completely. Spread jam of your choice on the biscuit with uncut center. Sandwich it with the biscuit that has its centre cut out.

Sprinkle some granulated  sugar on the jam. Dust the biscuits with icing sugar. The jim-jam biscuits areready!
Notes
Chilling the dough helps in resting the gluten in the dough. Which will further avoid shrinking of the biscuits during baking. 
Once you have cut the biscuit, you can put them in the refrigerator for 10 minutes before baking. This is helpful in getting crispier biscuits. 
To Conclude
Enjoy these short-crust pastry jam biscuits with tea/ coffee or just as. I am sure you'll agree that they are easy to make and absolutely delicious. With the buttery dough and the jam of your choice, these biscuits are a match made in heaven. These sweet short-crust jam biscuits should be on your baking list and when you do make them, do tag me using #bakestermind and I'll be happy to see your version of them.
Happy Baking!
Subscribe to Bakestermind and never miss out on recipes!