I'm sure every now and then you have had the idea of holding a bake sale. But the problem is you have no idea where to begin? Do not worry, a few years back I faced the same issue. I knew I wanted to put up a sale but did not know how to go about it. I have had a pretty fair share of bake sale experience in the past. Taking both good and bad experiences, I have compiled a list of 15 Important Things which will make your bake sale a success!
I have also attached a Free Bake Sale Checklist at the end of this article. You can use it to make your Bake Sale a Success!!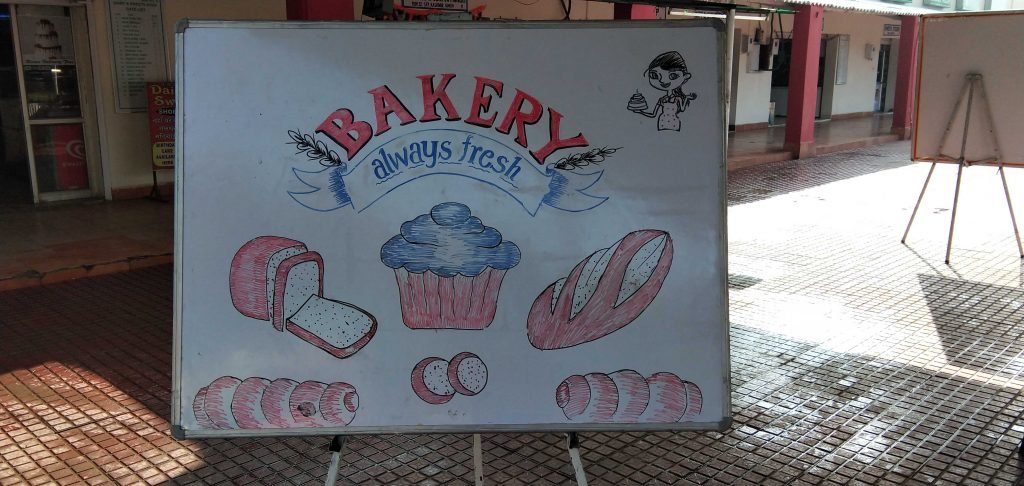 What is a Bake Sale?
Bake Sale is an event conducted by institutions, non-profit organizations. For example; schools, colleges, offices, NGO's, religious organisations. Bake Sale is popularly conducted for the following reasons
· To raise funds for a cause
· To sponsor an event of an organisation
· To promote a particular bakery business
Speaking from personal bake sale experience…
The bake sale which I have been a part of were for similar reasons. All my bake sales have been a big learning lesson. The first bake sale I conducted was to promote my home baking business. It had its ups and downs, mostly downs. The top 3 mistakes I made were:
1. Location: I assumed Sunday being a holiday, people would come out to buy from the Bake Sale. But then I got to know the location I chose (a food complex) opened only for half day. Whereas, I planned to hold the bake sale for the entire day. I did not check the timing of the location beforehand. And this cost me a bulk of potential customers.
2. Went mad baking the quantity: I thought since it's my first bake sale I must go all the way to have a full massive stock of products. I was disappointed because since the duration of the sale was short, few people could come out to buy. I was left with bulk products and no customers to buy those products.
3. Not Decorating my stall enough: I learned the hard way that people eat with their eyes first. The taste of your products would be fantastic. But if you don't decorate your stall, many people won't be attracted to the stall.
Positives of a Bake Sale…
Bake Sales aren't always disasters. There is a positive side to it as well. Apart from raising money in a particular bake sale, I also learnt the following things:
1. Through all my bake sales, I was able to advertise my home bakery business to more and more people. I could personally meet them and explain what my business is about.
2. Through the bake sale I learnt to narrow down my menu according to what the audience likes. I also learnt to make a decent quantity of products and not make hordes.
3. My baking skills, my decoration skills and packaging skills improved massively. This is huge for a career in Baking. You get to see the instant reaction of your customer. You get to know where you need to work hard.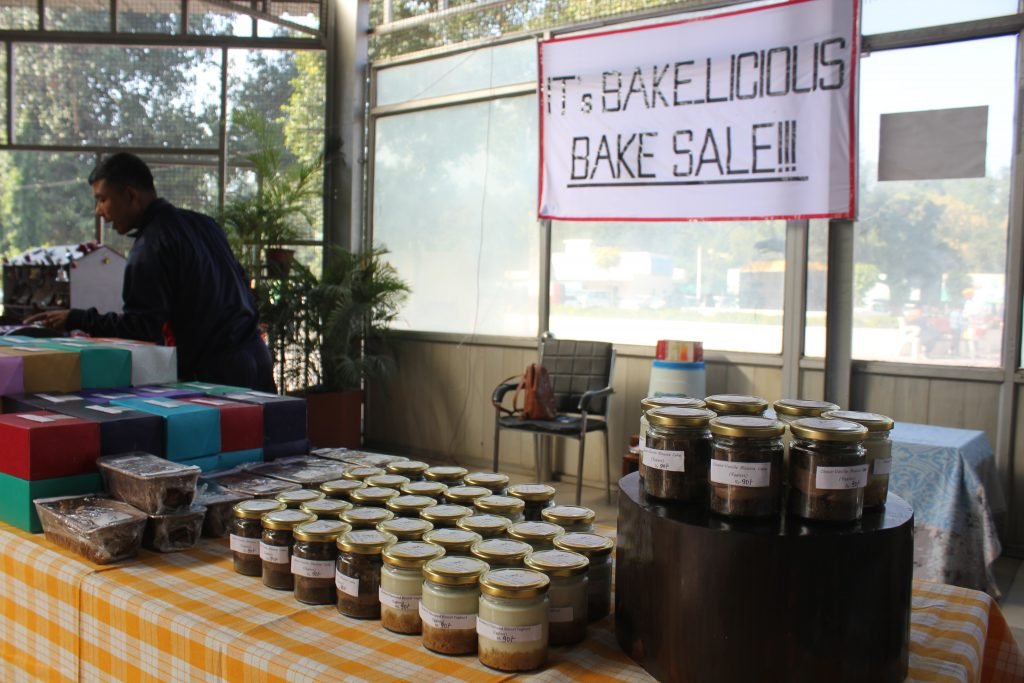 Important Things which no one tells you about a Bake Sale
1. Take permission
If you are putting a stall for a fundraiser, you need to take permission from the organising authority. Understand the terms and condition set by the fundraising authority for the bake sale. These would include the following dictated for the sale:
Location for the sale
Theme (if any) for the sale
Price for putting up the stall
Materials/ furniture/ electricity/ garbage bins which you will or will not get from the organising committee
Time Duration of the sale
Size of a stall provided to you
Always get a permit to run a bake sale from the local authority if you are putting for a personal reason. If it is not held on your personal property, you must always take permission. Write an application to the concerned authority asking for permission. Preferably write the application on your own letterhead and mention the points mentioned in the picture below: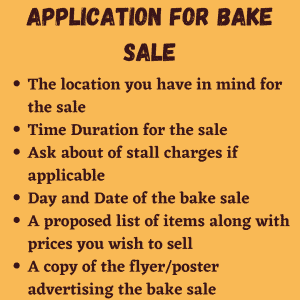 Sponsoring an event for a particular event or a particular organisation can also be termed under bake sale. If you are being asked to sponsor an event, you are advised to follow the points mention below:
Know the event you are sponsoring. Try to incorporate aspects of the event in your menu for the event
Understand the terms carefully of sponsoring. For example, in one event which I sponsored, I did not pay anything to put up the stall. But I was also paid anything for the bakery items I put up. On the brighter side, I was given a stall in the Annual Carnival of the same organisation.
The theme of the Event
Type of Meal, you are sponsoring. For example Morning Tea, Desserts, High Tea, Evening Tea
The audience which will attend the event
Remember, if you want to do a bake sale on your own. Submit the application well before in time to the concerned authority. This is because the approval might take a bit of time. An approved bake sale stall also instils faith in customers buying from you. 
2. Know your audience
Who will you be selling to? Whether it is an organised event or your personal bake sale, you must know who your ideal customer is. For example, if the bake sale is being conducted in a school fair, then your stall will probably have baked items that cater to kids. It would also have products which they can mostly eat in the fair rather than carrying it home.
If it is a personal bake sale, then you may cater to kids and adults. It will then have a more varied bakery product. Hence, knowing your audience is important as it will also help you to plan the menu for the sale.
3. Choose the location
The bake sales are either organised by an institution or by self. If it is organised by an institution, it is likely that they will choose the location for the sale. In this case, you must see the space and size of the stall allotted to you (if possible) well before the day of the sale.
If you are organising a personal bake sale to promote your business, you must choose the location keeping the following in mind:
Is your target audience usually going to that location?
Is it easily accessible?
Is the address understandable through the bake sale posters?
Does the place have parking available?
Can the safety protocols be followed in the location?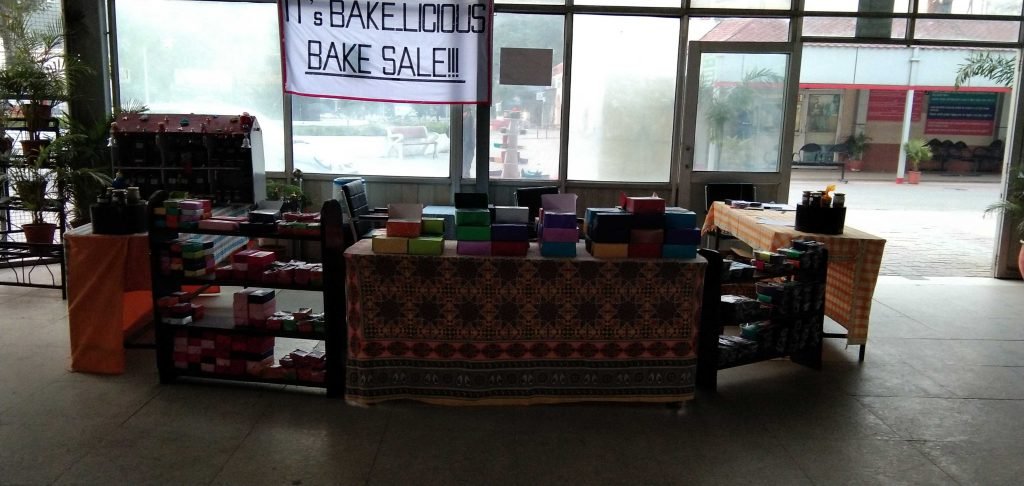 4. Advertise advertise advertise about the Bake Sale
Once you get to know the location, day, date and time of your bake sale, start advertising about it. If the bake sale is organised by an organisation for a particular audience, then you might not be able to invite customers on your own.
Advertising about the bake sale is profitable when you hold a personal bake sale. Start advertising a minimum of one week before the bake sale. You may advertise through:-
Social Media
Posters
Newspaper flyers
Word of mouth
Your advertisement must indicate necessary information. Information such as:
Title
Day and Date
Time
Venue
Necessary payment details
Categories of products, you will be selling at the bake sale
Contact information
Social media links (so that your potential customers can see your work beforehand)
An incentive, such as a discount. This is optional and based on your personal choice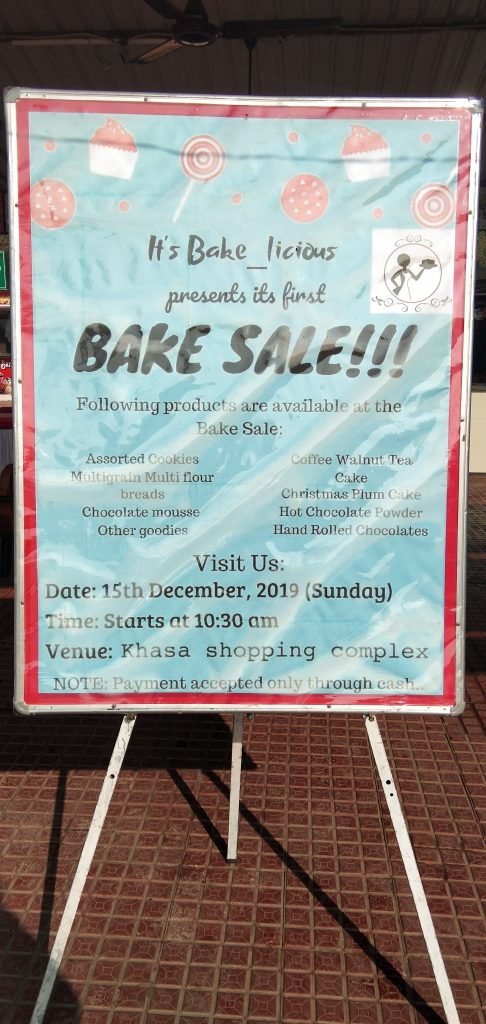 5. Menu Planning
Here is where you really need to put your focus and energy. Menu planning is the key element for a successful bake sale. You know your target audience for the sale, now think what would they like to find in a bake sale.
Things to remember when planning the menu for the bake sale
Target Audience
Budget
Type of Bake Sale
Packaging
Food Safety
Allergens
Theme of bake sale (if any)
Play your strengths. Bake things that are absolutely confident about
Bake the products you are comfortable with
Most bake sales organised by an institution will ask you to pre-approve the menu with them beforehand. Some might even ask you to make a menu as per their requirement. For example, in one of the bakery sale, I was asked to sponsor High Tea for a Tedx Event held in a school.
So, I kept the following instructions in mind before preparing my menu for the event:
High-Tea; meaning snack items, finger foods
TEDx Event: for adults and kids
Something to commemorate the TEDx event
Keeping these factors in mind, my menu for hi-tea was as follows:
Coffee Cardamom chocolate bonbons
Focaccia squares
Apple pies
A mixed platter of cookies and biscuits
Spinach and Corn Mini Quiches
Orange and Cranberry mini muffins
And since I also wanted to commemorate the Tedx Event, I used a Macaron Shell with Tedx written on it. I placed the macaron on top of each platter.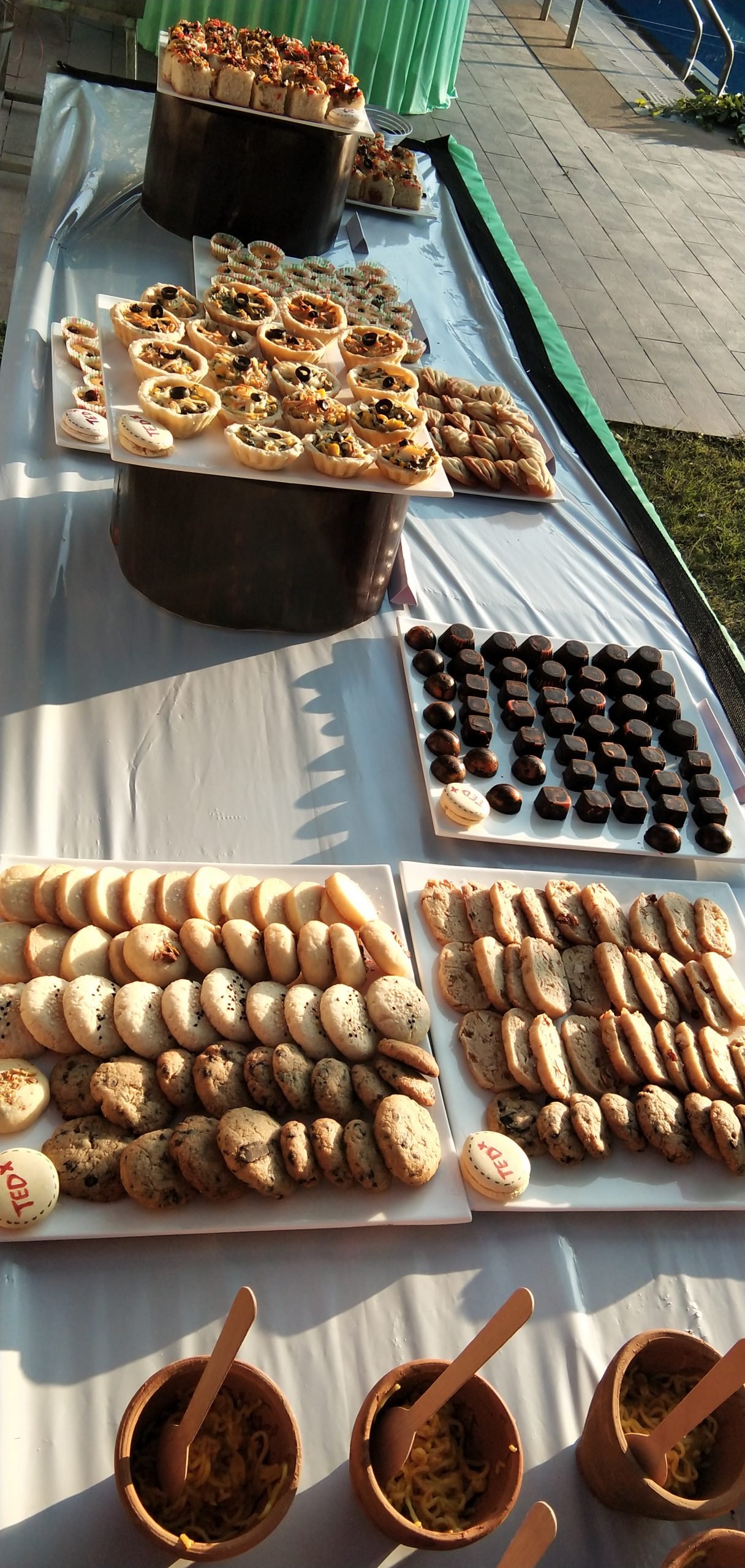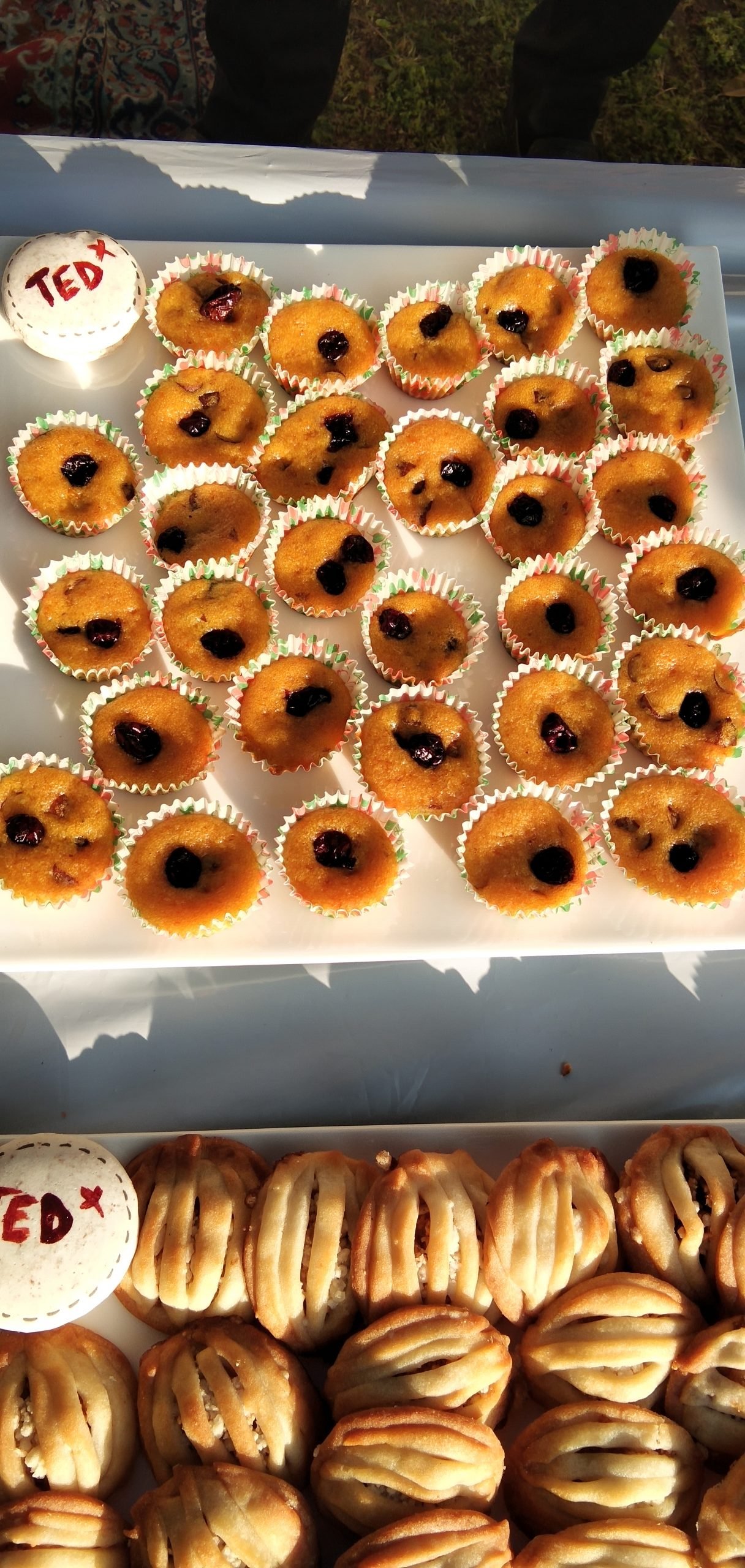 If the bake sale is seasonal themed like Diwali, Holi, Christmas, your menu should cater to that festival. Bake the products as per the festival. For example; A Christmas bake sale can have the following items:
Ginger Bread Cookies
Plum Cake
Mince Pies
Hot Chocolate
Christmas Themed Cupcakes
Panettone
If you are setting a bake sale in a fair, carnival, school, college functions etc, focus to make a menu that can be eaten and enjoyed there itself. People usually want to spend money to eat at a fair or carnival instead of carrying the product home. Hence, your menu can include products from the following categories:
Cookies and Biscuits
Cupcakes and Muffins
Cake Slices
Waffles and Pancakes
Hot Bread: Garlic Bread, Pizza
Home-made ice-creams
Chocolate and Truffles
When you set up a personal bake sale, reins are in your hands. Your menu should reflect your bakery business. Whatever range of products you want to sell through your business should be in the bake sale. For example: If you like to bake bread, cupcakes and dry cakes then put these on in your bake sale.
Also, check out our blog on The Essential Tools for Baking for a beginner.
6. Keep the Menu affordable
The menu you choose should be affordable. Affordable for you as well as the customers. Affordable for you because you have to set a budget for making the products. Affordable for customers because overpriced products lead to no customers. Under-priced products lead to your loss on profit and ingredients cost. That is why when planning the menu for a bake sale, it is important to set a budget. A set budget will also further help in pricing your menu correctly.
Biggest No-No When Setting a Price for Bake Sale Menu.
Do not price your products based on your emotions or seeing the competition price. It will either lead to undervaluing your products and services or charging a bomb!
When pricing your products, you need to factor in:
Ingredient cost
Total Yield
Per serving price: total yield divided by ingredient cost
Overhead costs (electricity, water, rent etc)
Profits
To know more about Food Costs and Calculating Food Costs click this blog link.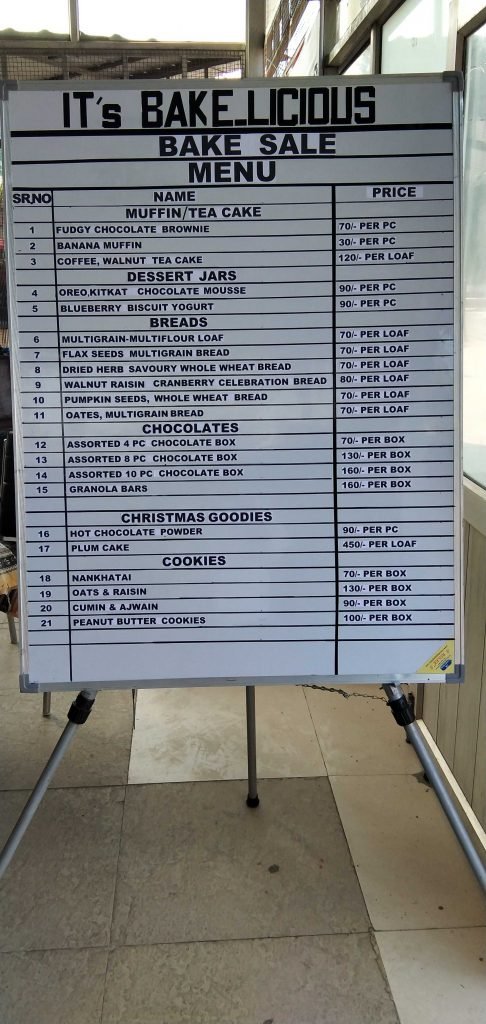 7. Good presentation of food
Imagine one dining table. One half is covered with bakery products just piled up on each other, kept in a straight line. And the other half of the table has bakery products with food tags, covered with cloches, neat platters. Which side of the table would attract you more?
I learned this lesson the hard way! I knew my bakery products were delicious but I did not put in much effort to display it properly. As a result, my sale was a disaster. In my next bake sale after this, I made an effort to use decorative food tags to write names. I used decorative plates, platters, baskets etc. and arranged the products nicely. As a result, this bake sale was a hit!
You can enhance the presentation of food through following:
Try simple decorations for your baked products
Arrange a limited number of food items and keep the rest as backup
Try to keep food covered with cloches
Use decorative plates, base, platters or baskets
Use ready-to-bake moulds/ cupcake liners if possible
Use decorative food tags to write the name and price of products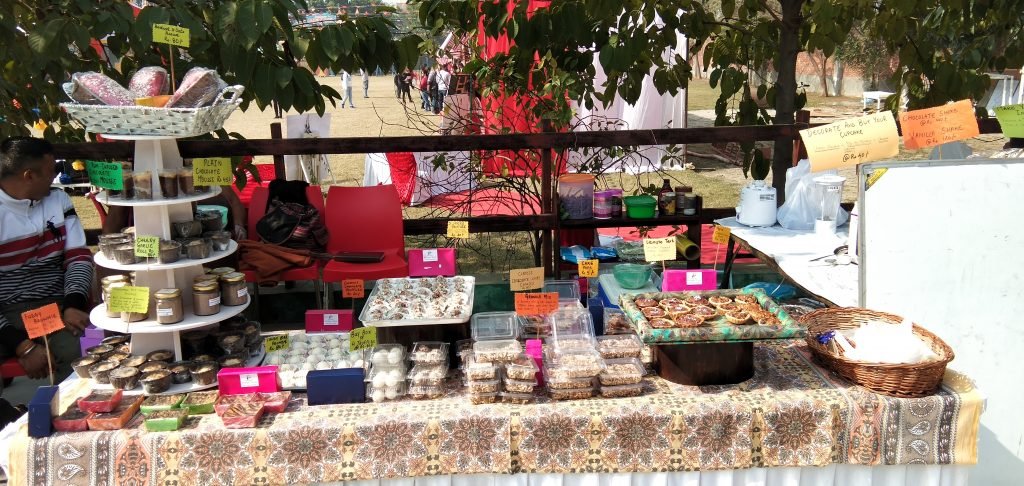 8. Packaging
Packaging is also an important part of menu planning. Decide the type of packaging you want to do for each and every menu item. You may use the following type:
Handmade boxes
Plastic food packaging
Store bought pastry boxes
Crinkle/ Decorative paper
You may also use these ideas for packaging baked products for the bake sale.
9. Decoration of the Bakery Stall
You have a great menu for the bake sale! Your food is displayed in a neat presentable manner. But still, the customers aren't hovering over your stall? Why aren't there long lines for your stall? Maybe your stall isn't "calling' them enough.
When you get a space/ stall to put up a bake sale, take time to decorate it. You don't have to jazz it up with lots and lots of decoration (maybe you can). But simple basic decoration would attract customers. The following can help you get started:
Banner: consisting of your business's name, contact number, social media links
Menu Price List: menu must be divided into categories like Cookies, Cupcakes etc. It should also have the Name of the product, price and quantity size.
Linen: to cover tabletop
Cake Stands: a couple of them to keep your baked products at different heights
Portable shelves: to stock, your bulk baked products
Electricals: microwave, waffle maker, blender. This is optional though.
Any other food decoration that goes with the theme of your bake sale
To get more ideas for bake sale stall decoration click here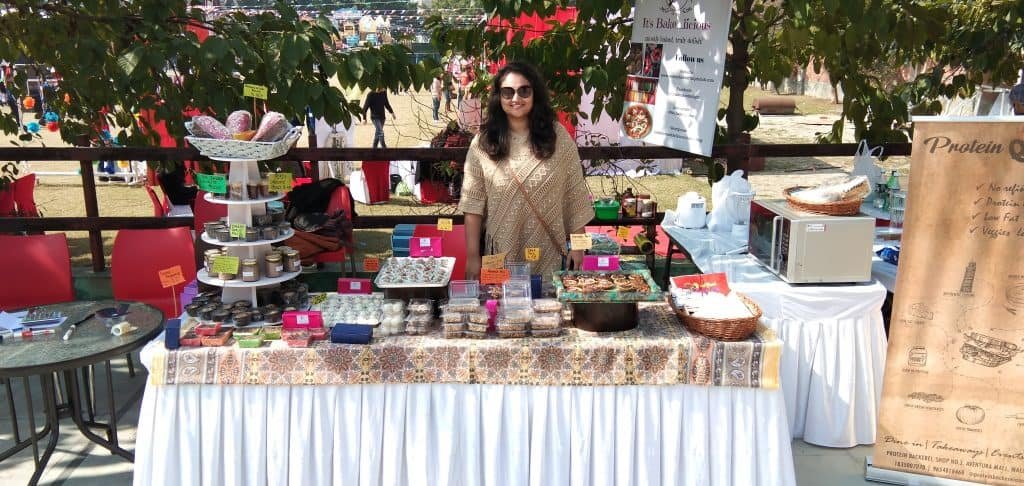 10. Cleanliness and Safety Measures
A messy, unclean stall will drive away customers. It will make you irritated seeing the mess. You won't be able to socialise in a happy mood with your customers. You don't have to become Monica from friends and go OCD over your bakery sale. But a clean, decorative bakery stall sure will get customers over to your stall. Following are a few pointers to get you started:
Must have garbage bins: Since yours will be a food stall, it is always professional to keep garbage bins. If you are having a bake sale for an organisation, make sure they help you arrange for it.
If you are preparing food at your stall, you must wear an apron and a chef hat.
If preparing food at the stall then divide your stall into two. One for food prep and one for display.
Use gloves
Sanitiser
Hand towels/ tissues etc
11. Stocked up Supplies
Keep a good stock of supplies with you for the bake sale. In one of my sales, I did not have enough packaging boxes or carry bags. This may be a small detail to work on but, believe me, it will go a long way. Few things to stock up on are as follows:
Packaging Boxes
Carry bags
Napkins/ Tissues
Disposable plates, glasses and cutlery
Extra food tags
Bakery Products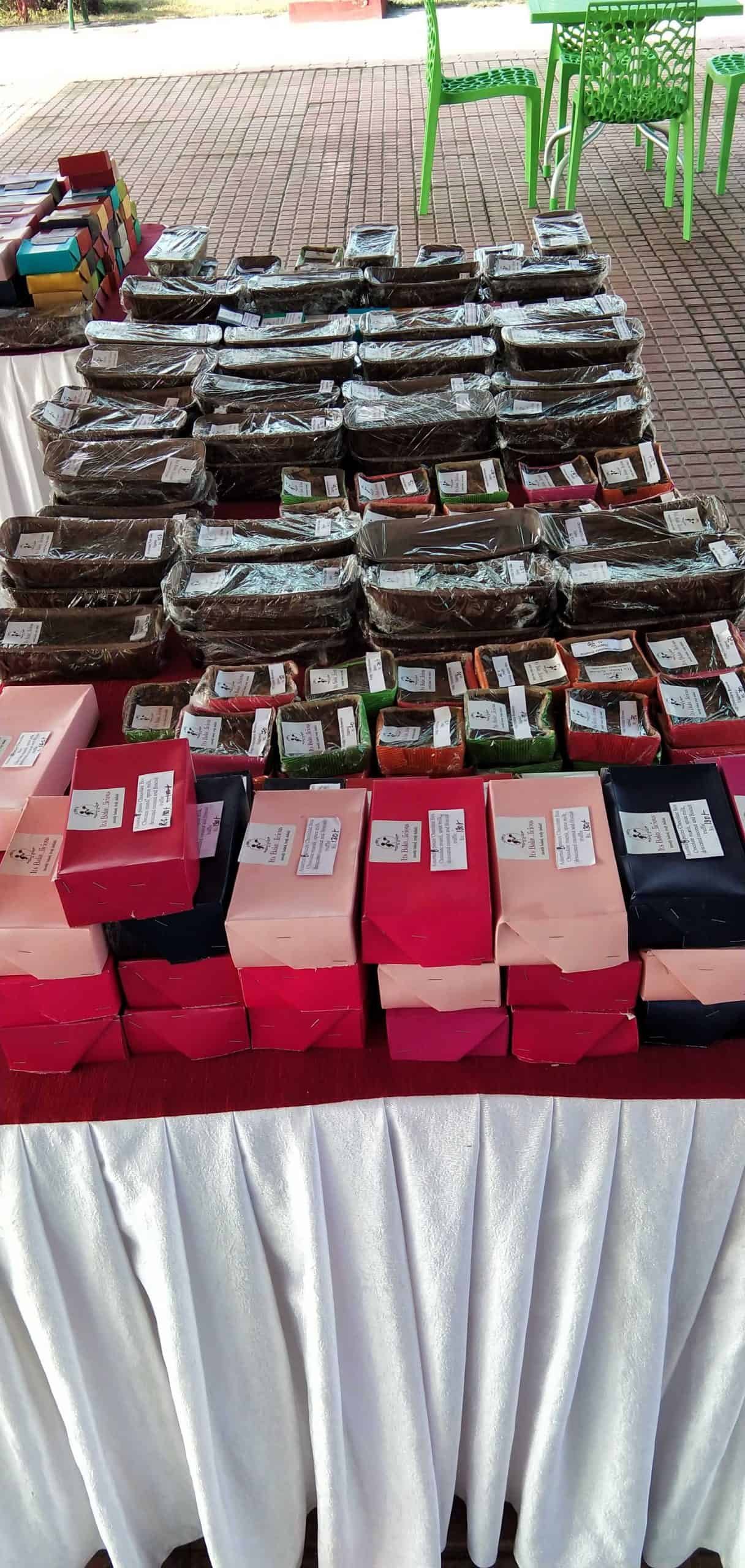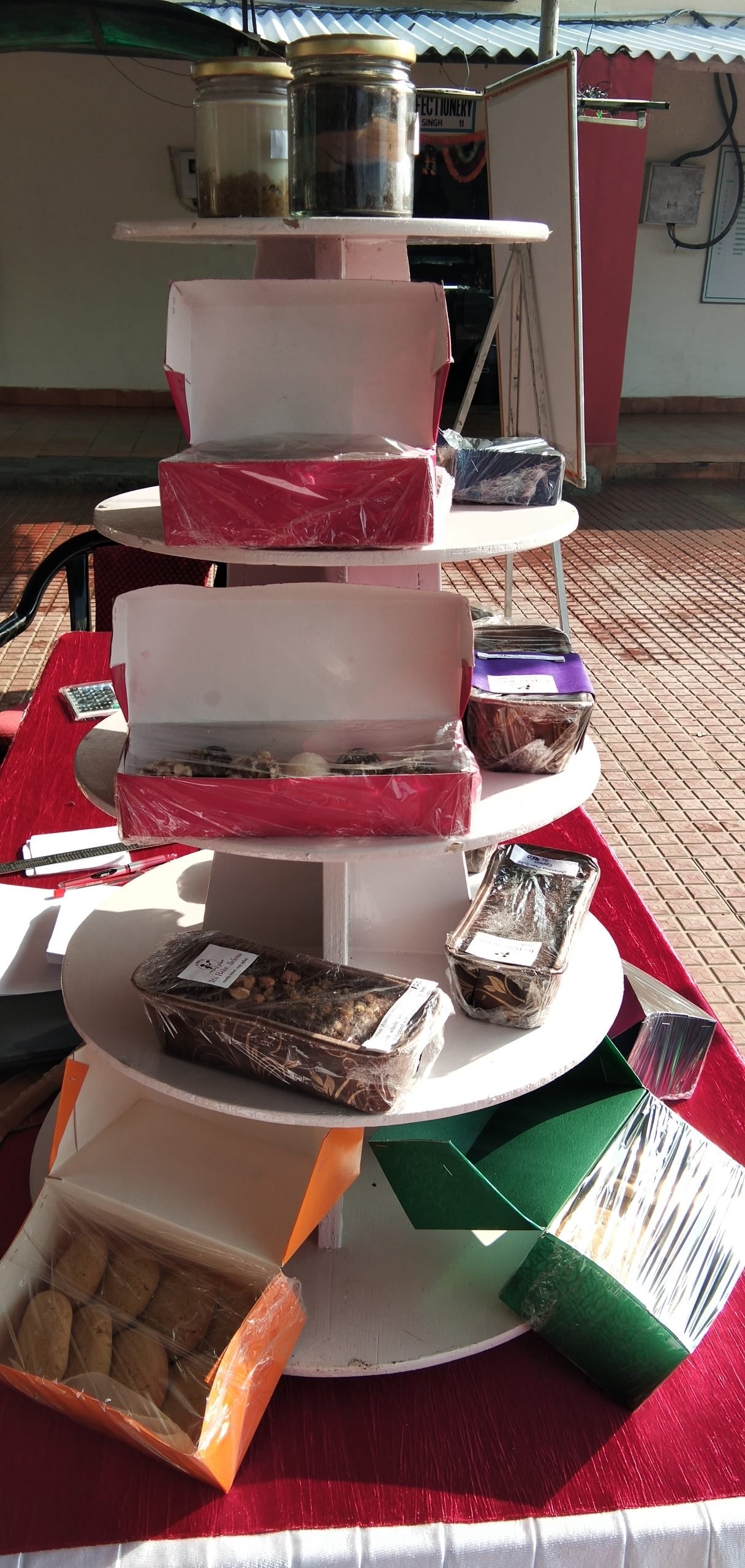 12. Payment Options
Most bake sales have a coupon system. Where customers give you coupon money in exchange for actual money. At the end of the sale, you can exchange the coupon for money with the organisers. But if you have a personal bake sale then you must plan your payment options.
Few pointers to keep in mind are as follows:
Keep loose cash handy
Opt for online payments through online wallets or bank transfers
QR Scan Code of the online payment. You can make a QR Code online, take a printout and keep it at the bake sale. Customers can scan the QR Code and make the payment directly. But this is optional. You can make a QR code through this link
Always accept the payment first! Speaking from a bad experience!!
13. Promote your personal business
Whether a bake sale is organised by someone or you are having a personal bake sale, never forget to promote your bakery business. I am assuming if you are putting up a stall in a bake sale, you either already have a bakery business or you bake occasionally at home and would like to take more orders. Bake Sale is a good way to talk to customers directly and promote your business. With the following ways you can promote your business:
A business banner: the same banner to decorate your stall may also be used
Business Card
Menu flyer
Using a free design tool like Canva, you can easily design a menu flyer and business card. With the bake sale do not miss the golden opportunity to promote your bakery business!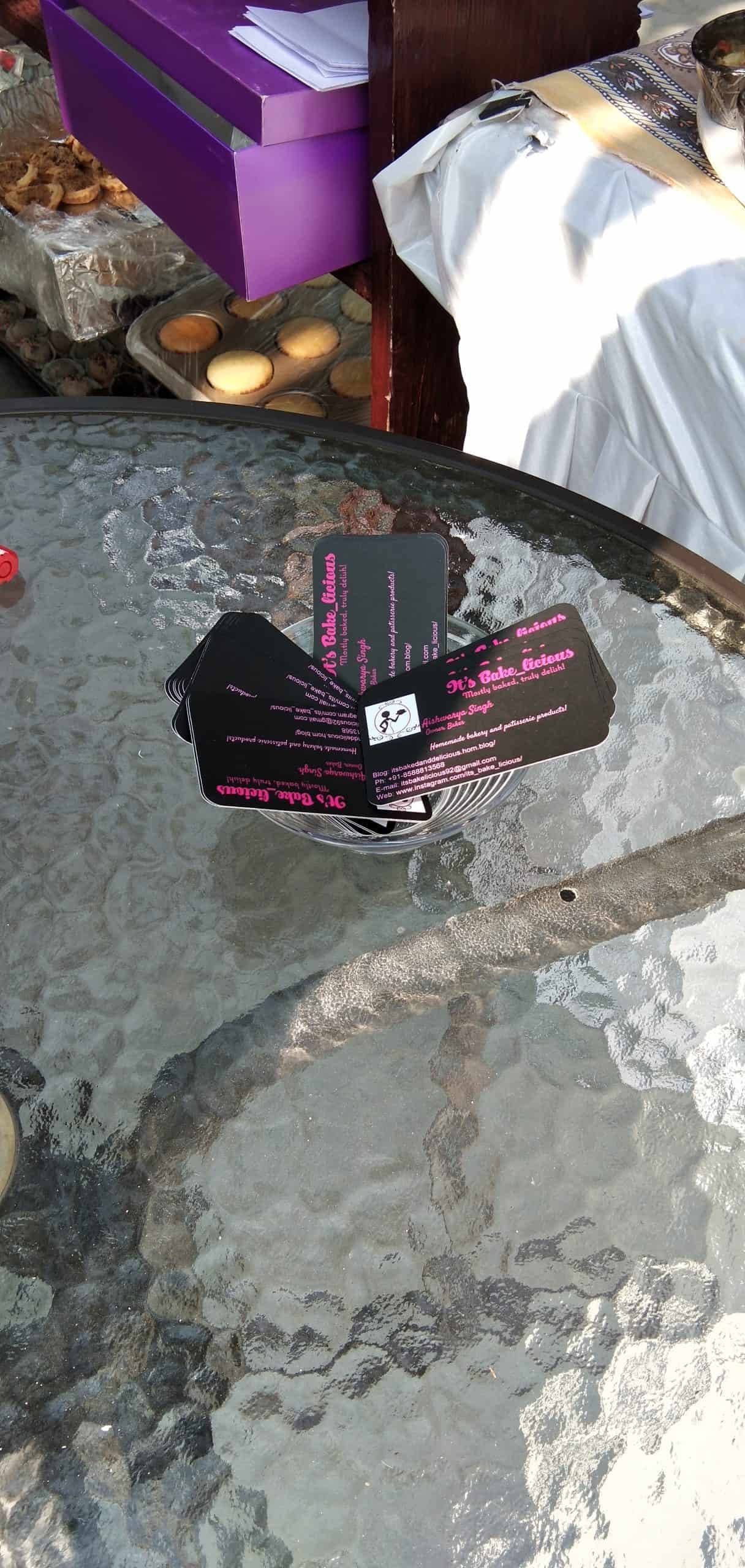 14. Socialise with customers and fellow bakers
This probably goes without saying. No one likes a rude host. A positive and happy attitude will help you sell bakery items much faster. Food tags, banners and other decorations are pretty self-explanatory in a bake sale. But all that is only limited. Only after greeting and socialising with the potential customers, you will be able to understand the likes and dislikes of the customer. You can also sway the sale in your direction and the customer may end up buying more products.
If there are other bakers in the bake sale, socialise with them as well. Don't only see them as competitors. You never know which baker might inspire you. Or you might inspire them.
15. Take Plenty of pictures
You have worked so hard to put up the stall for your bake sale but don't have any pictures to prove it? That's not right. I strongly advise you to ready the stall at least 15 minutes before opening. You will have plenty of time to click photographs of the decorated stall, menu items, yourself with the stall.
Photographs will help to plan further bake sales as well. You may also use social media like Instagram Live and Facebook Live to share the bake sale experience with your friends and family.
Conclusion
So there you go, 15 things that no one tells you about a bake sale. With these tips and tricks and my fair bake sale experience, you can make your next bake sale a success. You can also download the Free Bake Sale Checklist from below, so you won't miss out on anything. Do tell me how your bake sale goes.
Happy Baking!