Hello fellow bakers! I am assuming you bake at home or are interested in baking at home. You wish to bake your own bread, cakes, and cookies at home and serve freshly baked meals to yourself, friends, and family. But you are often lost when looking for essential baking tools. That's why you reached here to find out the recommended tools to start baking at home.
Well, I am glad you did. When I started baking, I used to be so confused about what all equipment I need to get started. Many times, I have used makeshift baking tools to do some baking. For example, and I am sure many do this, using a coffee mug as a replacement for a measuring cup!
Over the years, I have realized that if you want a perfectly baked product, you do need to invest in good quality baking equipment and tools! A good set of baking tools reduces the preparation time and helps you achieve top results!
In this article, I am going to be sharing Top 10 essential baking tools that are proven right to start baking. I have also added a few trusted links to the same product. The list of tools is based on my personal use and experience. You can use these links to see the reviews and then buy the product.
Who is this list of baking tools for?
I am writing this list of must-have baking tools for bakers who are just starting out. Professional bakers or people with a successful home bakery business have a more exhaustive list of baking tools apart from the given.
This is a list of baking tools that can be used for making all the basic bakery items. Once you start getting more and more confident in your baking, you can keep on adding more tools. Tools, that are specifically used for making a certain product.
For example, to start off, you do not need a fancy turntable to decorate a cake. You can simply place the cake on an inverted tray and decorate it. However, once you are a pro, you can go for a turntable and decorate a lot many cakes in a short time rather than just one.
Where do I shop my baking tools from?
I visit my trusted shops in the local market to buy the bakeware. Since the country is under lockdown due to COVID-19, I prefer the products being delivered at home rather than me going to the market.
This is where Amazon comes in.
I absolutely rely on Amazon when it comes to buying my bakeware through online shopping.
· They have a wide range of bakeware available and decent prices.
· You can easily search the product
· Get a good price quote and discount
· You can read the customer reviews and buy the product
Most of the products have 'Return the product' option which is the most important filter for me when I search for a product. I prefer bakeware which can be replaced or returned. This is because sometimes there is a difference between the product pictures shared on the description and the one which you actually receive.
Hence, you can buy good quality yet affordable baking tools here.
However, Amazon does have certain drawbacks too. Such as,
· Too much time for delivering the product. So, I need to plan my purchase well in time
· Sometimes when I get a really good deal, it turns out to be out of stock. Hence, I need to look for good alternatives.
The products I shared in my list of Essential Baking tools are tried and tested and I have been using them over the years. So, I assure you the reviews are going, to be honest, and from my personal experience.
Classification of baking equipment for beginners
Must-have baking tools and equipment can be categorized in various ways:
· Major and Minor
· Powered or Un-powdered
· Mechanical and Non-Mechanical
· Luxurious and Essential
For the purpose of this article, I am going to be categorizing essential baking tools under mechanical and non-mechanical.
Mechanical baking equipment
They are machines, no matter big or small. They get the work done a lot faster than manual/ non-mechanical equipment. Some of the examples would be: blender, electric whisk, deep fryers, ovens, digital scales
Non-Mechanical baking tools
These would include all other things. Such as knives, measuring cups, spatulas, whisks, baking tins, mixing bowls, etc.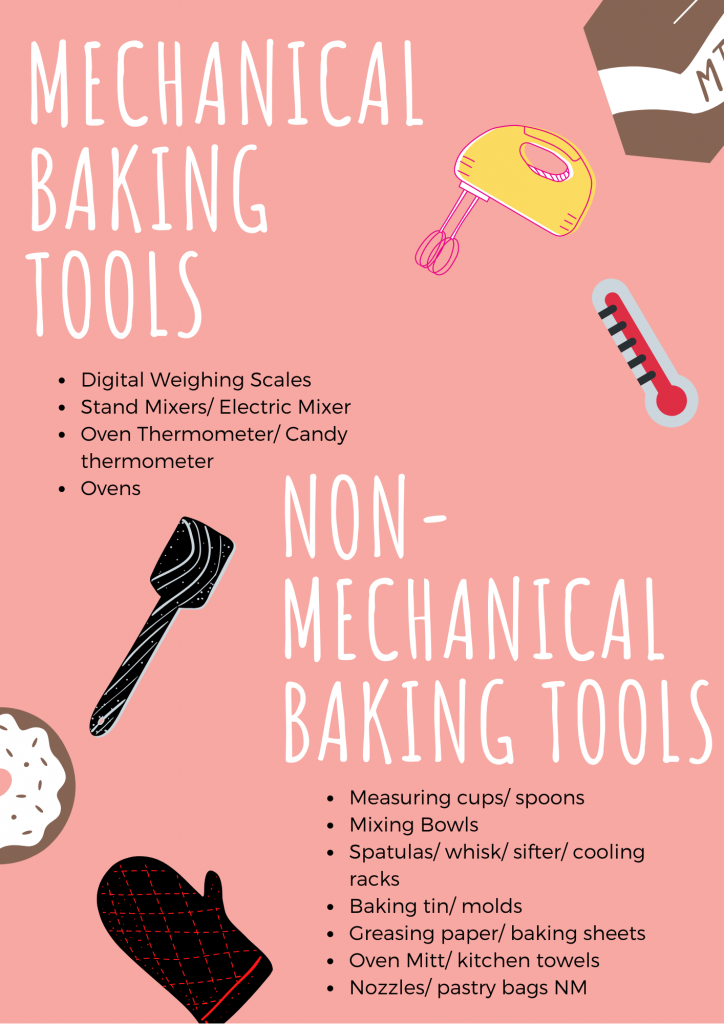 Top 10 must-have baking tools are:
I prepared this list thinking about the process of baking any product. Starting right from
· Weighing out the ingredients
· Mixing the ingredients
· Pre-baking arrangements (like pre-heat, arranging on trays)
· Baking
· After Bake and decorating
Let's get started
1. Measuring Cups/ Measuring spoons
Yes, you have teaspoons and tablespoons at home. Coffee mugs and teacups don't count for proper baking measuring cups and spoons. Baking is all about the perfect recipe ratio. Little addition or deduction of any ingredient can lead to differences in your baked good.
The measuring spoons I use often to weigh out the baking powder, baking soda, vanilla essence, etc. But when using the measuring cup, I just double check it by weighing out on weighing scale.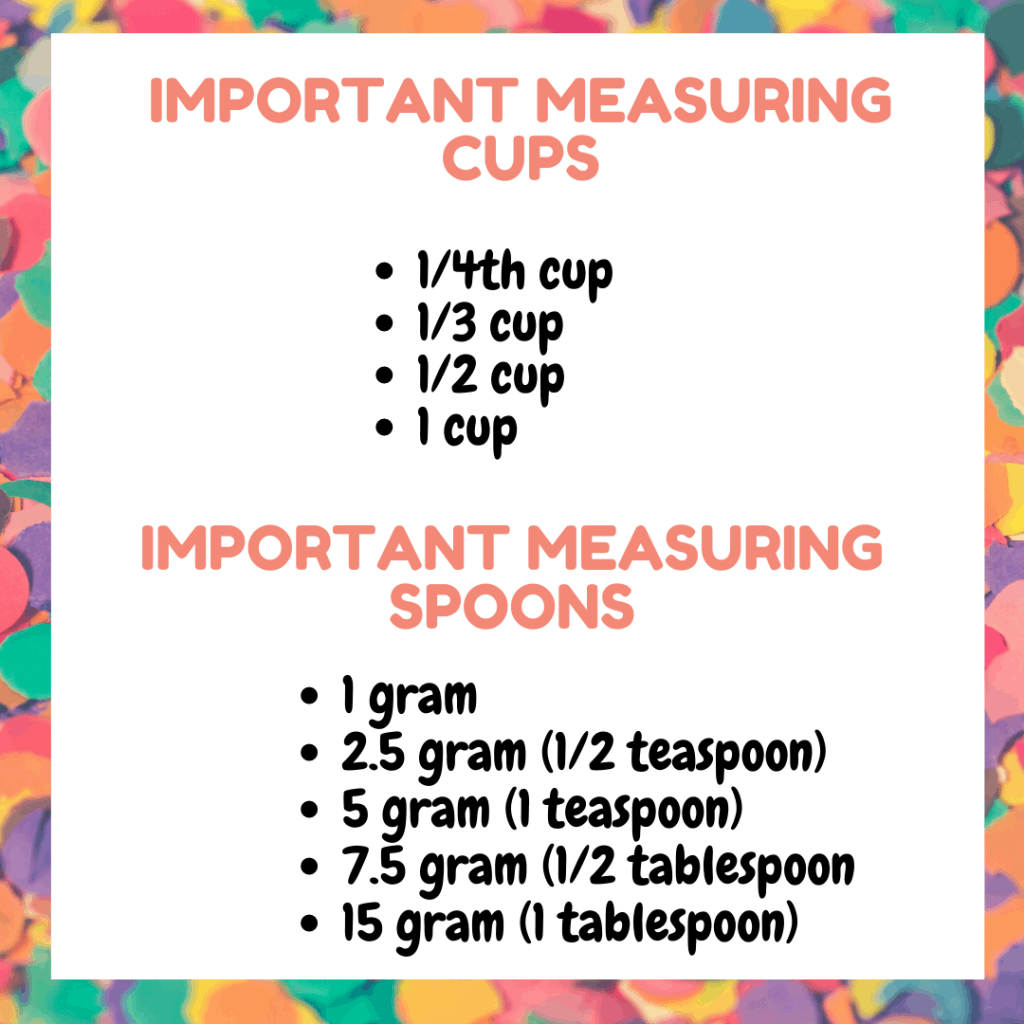 This is because the weight of liquids in the cup and solids in the cup is totally different. Therefore, you must pay close attention to what the recipe calls for. It's best if you get a recipe that has ingredients measured in 'grams' and 'kilograms'. If not, do enquire more on the conversion table followed by a person who developed the recipe.
2. Weighing Scale
Keeping in line with measuring cups, the next important baking tool is a weighing scale. Be it a digital one or a simple one, you need a weighing scale. This is because where the measuring cups and spoons fail, the weighing scale works.
I personally like to use the mechanical scale or the spring scale over a digital scale. This is simply because I don't like to invest in buying batteries for the digital scale again and again. Though you can buy a rechargeable digital scale instead of batteries. But I believe the mechanical weighing scale is much easier to handle.
Weighing out all ingredients as per recipe is an important step when baking. A weighing scale will make it super easy to weigh out. The remaining its and bits can be measured using a set of measuring cups and spoons.
3. Mixing Bowls
After you have completed weighing out your recipe, the next thing you need is mixing bowls. Trust me, you can never have too many mixing bowls!
Yes, you have regular wok, cooking pans, and vessels. But when you start baking, you will need a separate set of bowls. Regular bowls used in our household, no matter how many times washed, still have a lingering raw smell. It could be of vegetables, onions, chicken/meat, the leftover color of a particular vegetable or spice.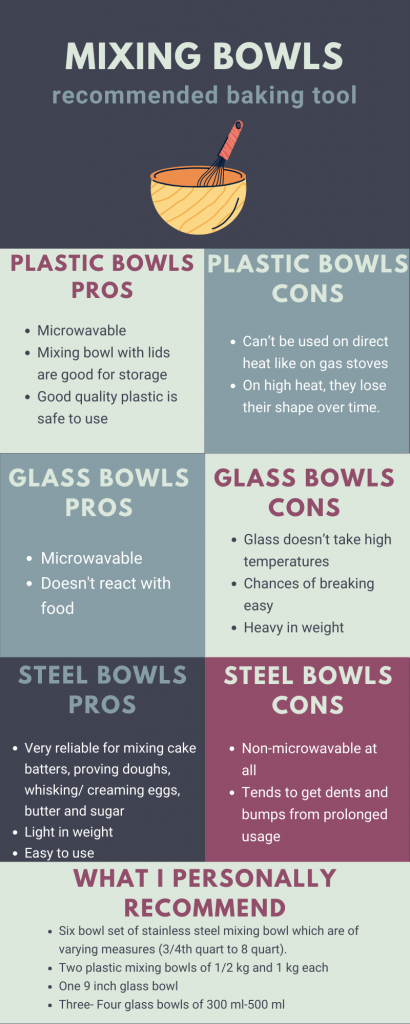 As a beginner, you simply need steel, plastic, and glass mixing bowl. A combination of these can also be bought. A separate set of mixing bowls for baking is an important baking tool.
4. Sieve/ Whisks/ Spatulas/ Brush
The next recommended baking tools are sieve, whisks, brush, and spatulas. Spatulas, brush, and whisks help
· In mixing the batters
· In whisking eggs
· In scraping outlast bit of batter from the bowl
· To even out cake batter after pouring in mold
· Grease your baking tin
· Soak the cake sponge with sugar syrup
· Applying milk wash/ egg wash on products
When baking, you must always sieve your dry ingredients
· to remove impurities
· aerating batters and doughs
· equal distribution of all dry ingredients
For this purpose, it is recommended to have two sizes of sieve (big and small). However, if you are a beginner you can use the sieve/ sifter used for household purpose.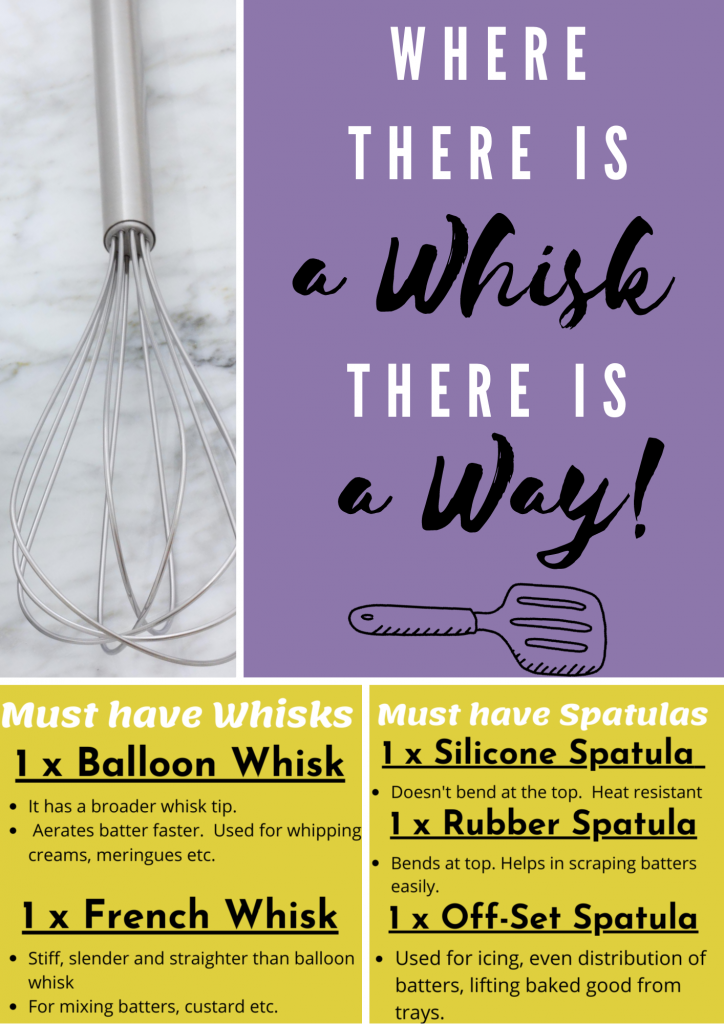 As mentioned in detail by Casey Barber of the GoodFoodStories.com there are 6 types of Whisks. All of the whisks have different purposes. Read about them here. The 6 types of Whisks are:
· Dough
· Flat/ Roux
· Ball
· Balloon
· French
· Coil Spring
As for spatulas, there are three types used in baking:
· Silicone Spatula
· Rubber Spatula
· Off-set spatula
5. Electric Mixer
If you are just starting your baking journey then balloon and French whisks are essential baking tools. But an electric whisk will speed up the process of mixing, beating, whipping, and blend baking ingredients. Most electric mixers come with attachments.
Electric Mixer is a recommended baking tool for beginners and they are of two types:
1. Stand Mixers
2. Hand Mixers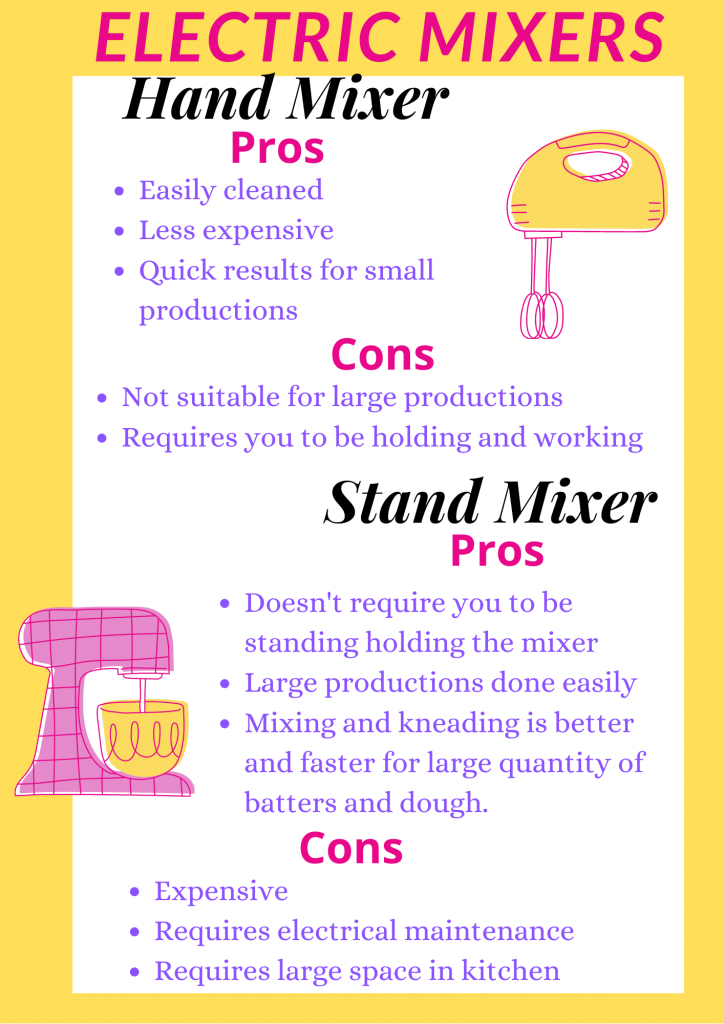 At first, my production in baking was at a low scale and my budget was very limited. Hence, I bought a hand mixer first. A few years later when I understood the basics and started producing products on a large scale, I bought a stand mixer. It's advised to buy a stand mixer from the shops instead of purchasing it online.
6. Baking Tin and Moulds
The most important and essential baking tool for beginners, advanced and professionals are baking tins and moulds. Baking tin and moulds are of following types:
· Cake Moulds
· Cupcakes / Muffins
· Bread loaf tin
· Pie/ Tarts
· Chocolate Moulds
· Souffles (Ramekin dishes)
· Lose-bottom tins
· Cookie Cutters
Just like mixing bowls, one can never have too many baking tins and moulds. The moulds come in almost all kinds of shapes and sizes. Starting from plain round or circle shape to fancy cartoon character moulds!
Baking tins and moulds or bakeware are also classified on the basis of material. They are:
· Aluminium
· Steel
· Glass
· Stone
· Silicone
· Non-Stick
· Polycarbonate plastic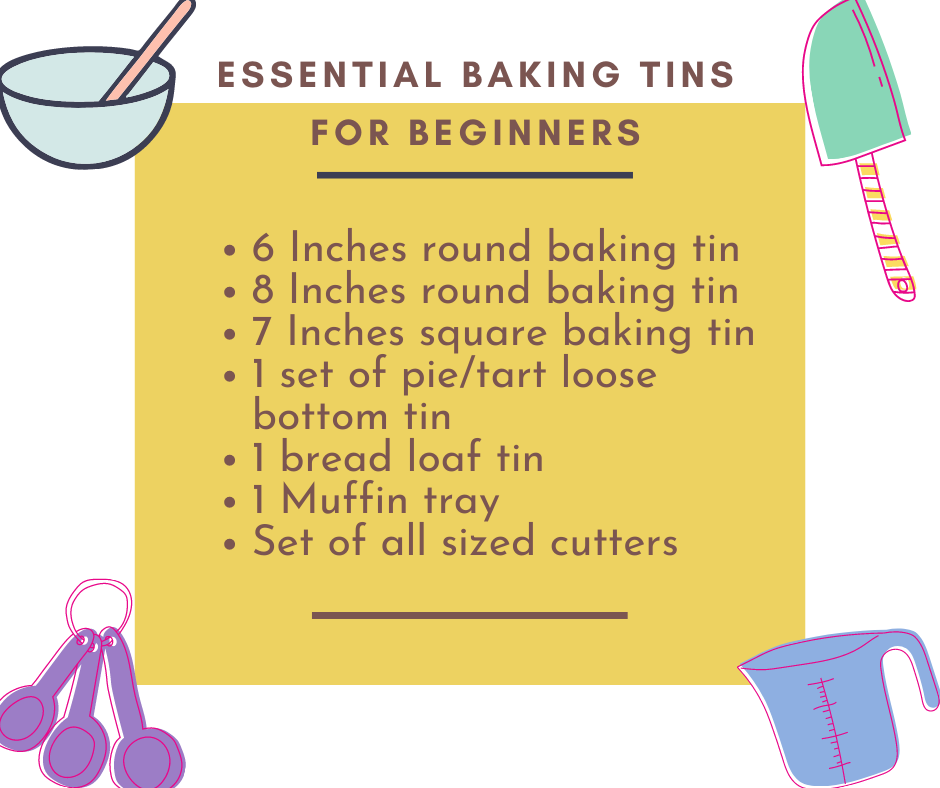 Out of these, I personally have used the following bakeware material. I'll rank them first to last on the basis of their durability and overall performance.
1. Aluminium
2. Non-stick
3. Polycarbonate (Only for chocolates)
4. Steel
5. Silicone
Of these, aluminium tins and moulds are the most durable and sturdy. Silicone moulds are my least favourite. This is because they are super expensive and need a lot of care while cleaning and storing them. Hence my advice would be to go for aluminium moulds first.
7. Greasing paper/ Baking sheets
Another essential baking tool is the baking sheet. Most baked products require greasing the tray before baking. It's better to invest in good baking sheets which will help in good greaseproof baking.
When I started baking, I used to mostly use the paper that wrapped Amul Butter blocks. Although it did the work, I could not use it again and again. The baking paper is of following types:-
· Silicone sheets
· Parchment paper
· Reusable Fibre Glass baking sheets
I would highly recommend using reusable baking sheets and silicone sheets. Though they are slightly high in the price they are a good investment. These baking sheets are reusable and you can wash and use them again.
8. Ovens
Now, this is an essential baking tool that can have a separate blog post altogether. (hmm..maybe I'll start on that next). Following equipment are used for baking:
· Otg Oven
· Microwave Convection Oven
· Gas
· Induction
· Air Fryer
· Solar Cooking
Though almost all get the work done, there is nothing that beats the quality of a product baked in Otg Oven. Oven toaster Grill Oven is a must!
I started out with a microwave convection oven but eventually ended up investing in Otg Oven of 45 liters. That was 4 years ago and till today I have been working smoothly with my OTG Oven as my sturdy baking companion.
9. Knives/ Scrapers
Yes, there are knives in your kitchen but a set of baking knives is a recommended baking tool. Apart from knives, scrapers are also important. You'll be surprised to know the types of knives used by bakers!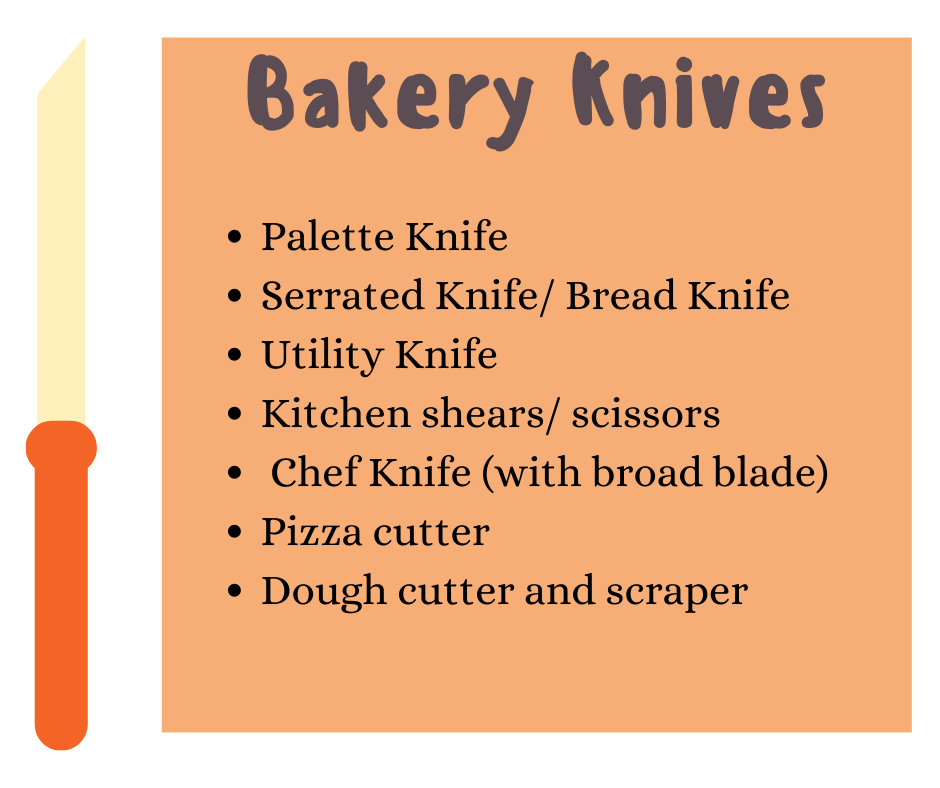 As a beginner, you should go for:-
· Palette knife
· Serrated knife/ Bread Knife
· Dough scraper
· Pizza cutter
10. Decorative tools
So now that you have baked using all the essential baking tools, you need some other important tools to decorate it. The list of decorative baking tools can be varied and depends on the type of product you are baking.
Recommended decorative baking tools are as follows:
· Cooling Rack (usually comes with the oven you buy)
· Piping Bags
· Nozzle set
· Turntable
· Rolling Pins
· Decorative moulds for fondant
To conclude
If you are a beginner in baker or love to do baking as a hobby, you must buy the above essential baking tools. Always remember, a good investment in these essential baking tools will lead to an awesome final bakery product. You can also use these tools or a mixture of these tools and gift them as a gift basket to someone you know! I am sure, these tools will be an awesome gift option for a baker!
You can check out the Food Lovin Family Blog to get some ideas about a gift basket for bakers. Click this link to see the gift hamper.
The above-mentioned tools are tried and tested by me in my home kitchen. Some of my baking tools were handed down to me by my mother. Over the years as the need arose, I bought these tools little by little, and today I am the proud owner of a decent collection of Bakeware. Hopefully, the link to the products will help you in making a decision.
Feel free to get in touch with me if you require any further assistance with the tools. I would be happy to help you out. Till then,
Happy Buying and Happy Baking!
Subscribe to Bakestermind for more updates!