Whether you are an amateur or professional baker, there is always one product which you are hesitant to bake. A simple loaf of gluten-free bread is that for me! Mastering the art of Gluten-free product is not easy. However, after making this simple recipe of the gluten-free loaf I am a little less afraid and more interested in experimenting with gluten-free ingredients in my recipes.
I used to always tiptoe around the idea of making a gluten-free bread without using preservatives or another type of fancy flours. After a few personal reasons, I decided to cut down the intake of gluten. As they say, 'Necessity is the mother of all inventions', I finally decided to brave up and deal with the gluten-free loaf!
On the internet, one would find lots and lots of recipes if you simply type 'Gluten-Free Bread Recipe'. Most have a range of gluten-free flours going in the dough. Some would have fancy ingredients which I wouldn't find locally and so on. Many would also have such complicated methods that I was just giving up on the idea of making a gluten-free loaf.
Until I stumbled upon a quick simple recipe by Christine, from Zest for Baking. It was like I entered into gluten-free heaven! I just couldn't stop browsing through her recipes which were all…you guessed it…gluten-free.
I have used Christine's 'Amazing Gluten-Free White Bread without Xanthan Gum' recipe and tweaked it according to the availability of ingredients locally and at my home. So, highly inspired by Zest for Baking, here's my version of Simple Gluten-Free Bread Loaf that you must try at home.
Gluten-Free Flours in India
There are lots of gluten-free flours available around the world. Gluten-Free flour available locally in India are as follows:
1. Potato Starch
2. Ragi Flour
3. Bajra Flour
4. Jowar Flour
5. Almond Flour
6. Rice Flour
7. Oats flour
8. Tapioca Flour
9. Gram Glour (Besan)
10. Buckwheat Flour
For this recipe, I used bajra flour, jowar and gluten-free wheat flour. All of these flours are easily available in the market and also online on Amazon.
You can use a combination of these flours. However, please understand that the water absorption power of these flours is high. It means that these flours will need more water than usual to form bread.
This Gluten-free bread loaf is slightly denser than the regular white sandwich bread. But, it's certainly tastier and healthier than the regular sandwich bread.
If you don't like the bitter after taste of bajra and jowar flour, you can toast it a bit. On a pan toast the bajra and jowar flour on low heat. Cool the flour before using in the recipe. The earthy after taste of the flour will not be there anymore.
The Gluten-Free Bread isn't a Dough!
I was awe-struck to see that the Gluten-Free bread loaf wasn't a 'dough'. It was, in fact, a batter. Honest confession, I first made this recipe as you make for any bread recipe.
1. Flours first
2. Yeast Mixture
3. Fats
This failed massively! Because the bread wasn't forming into bread dough, I kept adding water and then more flour. Ultimately the whole bread was a disaster. Still ate the scraps of it though!
In my second attempt, I went through the recipe and saw that this bread is made like a cake batter. And the end product is, in fact, a perfect gluten-free loaf! So, if you are trying out this recipe, please don't be alarmed if your bread dough isn't shaping up to be..well… a bread dough.
In this recipe we:
1. Whip up the eggs
2. Add the liquid mixture
3. Lastly add the dry ingredients
What to top up the Gluten-Free Bread with?
For the topping on this gluten-free bread, you can choose any or all from the following:
· Sunflower Seeds
· Chia seeds
· Amaranth seeds
· Oats
· Flax Seeds
· Pumpkin Seeds
· Black Olives
· Sesame Seeds
· Oregano
Black olives, white sesame seeds and oregano will give the gluten-free bread a savoury twist.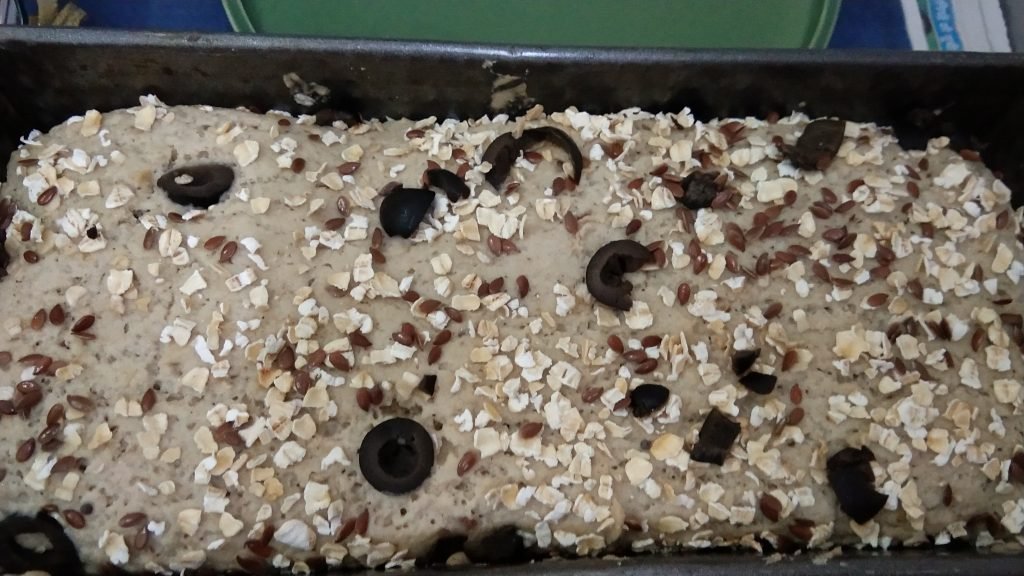 What to eat my gluten-free bread with?
This gluten-free bread you can use like a loaf of regular bread. You can enjoy the slice with
· Eggs
· Jam
· Butter
· Honey
· Relishes
· Chutneys
Let's make this Simple Gluten-Free Bread
Simple Gluten-Free Bread Loaf
This recipe can be made easily at home with minimal ingredients. You can enjoy the goodness of vitamins, proteins and whole lot of nutrients in your diet with this bread.
Ingredients
180

grams

Gluten Free Wheat Flour

70

grams

Bajra (Pearl Millet) Flour

70

grams

Jowar (Sorghum) Flour

1- 1/2

tsp

Salt

1/2

tsp

Baking Powder

25

grams

Fresh Yeast

150

ml

warm water

to activate yeast

30

ml

refined oil

flavor-less refined oil

30

ml

Olive Oil

15

ml

White Vinegar

20

ml

Boiling hot water

5

grams

flax seeds

10

grams

rolled oats

3

numbers

egg whites

80

grams

potato starch
For Topping on Bread
Rolled Oats

Sunflower Seeds

Pumpkin Seeds

Black Olives

Chopped

Flax Seeds
Instructions
Activate the yeast by adding 150 ml of warm water on fresh yeast. Add honey to this mixture. Keep it aside for the yeast to activate.

Mix light brown sugar, oliveoil, refined oil and vinegar together. Keep it aside.

In 20 ml hot water add flax seeds and rolled oats. Keep it aside.

In a bowl, mix gluten freewheat flour, sorghum flour, pearl millet flour, baking powder and salt.

To make potato starch: Grate1 potato and put it on a muslin cloth. Remove all the water and starch of thepotato by squeezing the muslin cloth. Keep the starch aside.

Mix the brown sugar, oiland vinegar mixture in the yeast mixture and stir well.

Whip the egg whites to stiffpeaks with the help of an electric beater or stand mixer.

Add the yeast mixture intothe egg whites and mix again.

Add the bloomed flax seedand Oats into the eggs. Add the potato starch.

Lastly add in the flourmixture.

Transfer the bread mixturein a greased pan. Add the toppings of choice. Let the bread prove till doublein size.

Bake the bread in a pre-heatedoven at 190 degree Celsius for 20-25 minutes until completely baked.

Transfer the baked bread on a cooling rack and cool completely before cutting.
Notes
Toast the flour, if you wish to remove the earthy taste of the flours.
Make the potato starch through muslin cloth similar to how we hang curd at home
Store the bread in an air-tight container as it starts drying up if left uncovered for too long.
The bread stays good for 5-6 days if stored properly in the refrigerator.
Start making your Gluten-Free Bread loaf now!!!
Now making a gluten-free bread at home isn't scary at all. Just follow these simple steps and you too can make this simple gluten-free loaf at home. With this bread, bring in the natural goodness in your daily diet. After you and your family taste this bread, I am sure you'll say goodbye to the regular commercial bread!
Happy Baking!
Also Follow BakesterMind on
Subscribe to Bakestermind and never miss an update!