Lavash / Lavosh/ Lawaash or Armenian cracker bread. These are the names of popular bread in Armenian Cuisine. Hence, a Lavash is a type of unleavened flatbread which is served as a garnish or an appetizer.
I did not know about this savoury goodness before my education in bakery and patisserie. Since then I've been making them from time to time and served them with tea or as a party snack.
Traditional lavash bread is cooked in tandoor. But I have made a savoury lavash cracker which is rolled out thin and baked till it is crispy.
My savoury lavash cracker is :
• Eggless
• Not fried
• can be made and enjoyed with a dip.
The same dough can be used to make breadsticks or soup sticks! Hence, it's a multipurpose dough!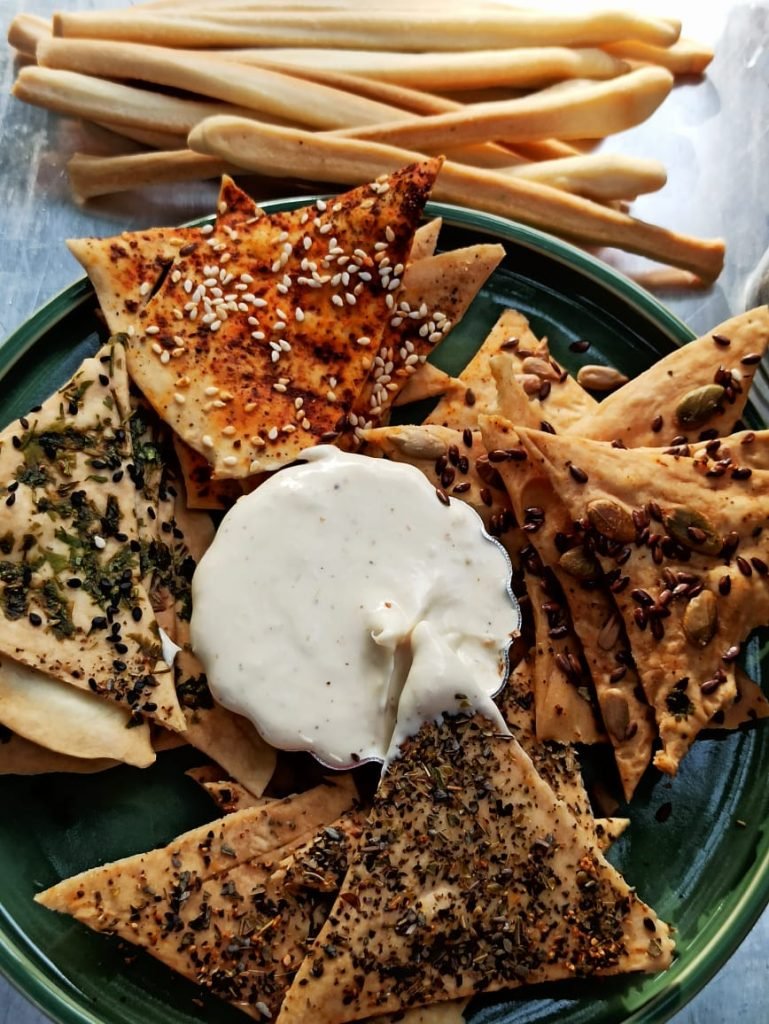 A cracker topping for savory lavash crackers!
I'll be sharing with you my best savoury lavash crackers recipe. I have made them with 4 toppings: –
• Onion Seed and Fresh coriander
• Red chilly powder with sesame seeds
• Oregano and pizza seasoning
• Multi-grain with pumpkin seeds and flax seeds
You can also toss them in a mixture of peri-peri mix, garlic powder mix. I have used all-purpose flour for baking the savory lavash. But these lavash crackers can also be made using whole-wheat.
I came across a whole-wheat version with garlic and sesame. Be sure to check this out if you need a whole-wheat version of lavash.
How to eat Lavash Crackers?
Lavash cracker can be eaten:
• plain as a snack
• With a dip
• As an appetizer in meat and cheese platter
• Topped with cheese spread and few chopped veggies
Storing the lavash crackers
After you bake the savoury lavash crackers, let them cool completely. Store them in an air-tight container jar.
You can keep them at room temperature and does not need refrigeration. The lavash crackers stay good for about 2 weeks. Although, I guarantee you, after these are baked they will be polished off in no time!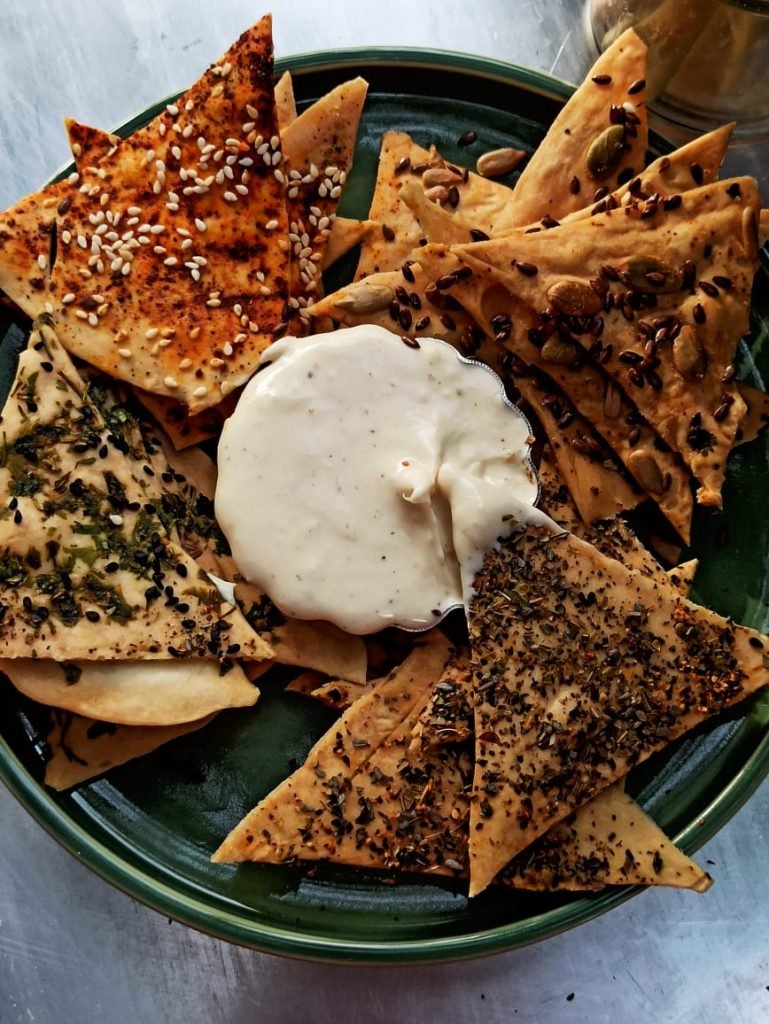 How to make Lavash crackers from scratch?
Lavash Crackers with 4 Toppings
This lavash bread with 4 toppings is quick and easy to make. They are a hit in cheese platters and as healthy snacks.
Equipment
Baking Tray

Brush to spread oil on lavash
Ingredients
100 + 30

grams

all-purpose flour

30

grams

unsalted butter

cold

60

ml

water

2.5

grams

Salt
For Toppings
Fresh Chopped Coriander

Onion Seeds

Red Chilly powder

Sesame Seeds

Pepper powder

Dried Oregano

Sunflower Seeds

Flax Seeds
For Oil Topping
4-5

pods

Garlic

cracked

10

ml

Olive Oil
Instructions
Pre-heat the ovenat 200 degree Celsius for 10 minutes

In a bowl, add flour, butter and salt.

Add water and knead a smooth dough.

If needed, add the remaining 30 grams of flour.

Give the dough rest for half hour, till it solidifies a bit.

Lightly dust the surface with flour, to roll out the dough.

Roll the dough very thin. Keep lifting the dough in between to avoid sticking of dough on thesurface.

Lightly grease the baking tray and transfer the rolled lavash sheet on the tray.

Generously apply water to the surface of lavash before applying toppings so that they stick longereven after baking.

Using a knife or pizza cutter, cut the lavash in desired shape. I cut them in triangle.

Bake the lavash at 200 degree Celcius for 8-10 minutes.
To Prepare Oil
Crack the garlic pods andadd it in oil.

Heat the oil overmedium heat till light bubbles start to appear. The oil is ready.

After the lavashis baked, spread the garlic oil over it with a brush.
Notes
Enjoy the lavash crackers with a cheesy dip or have them plain!
The shape and size of the lavash crackers is up to you
The quantity of the topping is also to taste.
If using salted butter, avoid adding extra salt in the dough.
You can also cut thin strips from this lavash dough and roll it into a breadstick!
In one rolled out lavash sheet, I made 4 types of lavash crackers.
Conclusion
You can cut the desired shapes and size of the lavash. The possibilities of topping the savoury lavash crackers are so many. Tell me a unique cracker topping you used when you bake these simple and quick lavash crackers at home.
Happy Baking!