Scones are a traditional Hi-Tea menu item that has originated in the United Kingdom. In the technical term, a Scone is a bread made of:
butter
flour
baking powder
milk with the optional addition of eggs.
But for me, a scone is the perfect buttery melt-in-mouth baked goodness. And they are prepared in no time!
You can make sweet scones and enjoy these beauties for breakfast. Do this by adding dried fruits like cranberry, raisins, blueberry, etc in the scone dough.
You can also enjoy them plain and smother them with butter, flavored jams and creams.
But, scones can be made savory too and can be a perfect savoury twist for your tea. My version of the scones is like cheese and chives scones but is different in taste. Scroll on to see these Cheese and Coriander Savoury Scones Recipe!
What's in a shape? Correct Shape of Scones
You might have come across different shapes of scones. The traditional Scones from the United Kingdom are cut with a cutter and are round in shape. The scone dough is rolled out thick and is cut with a round cutter. So, they are round and cylindrical in shape.
The scones from the USA are not shaped with a cutter. They are rolled out thick and cut in the desired shape. Which is usually triangular.
But, honestly, these savoury herb scones are simply delicious in all shapes and sizes!
Do cold ingredients make better scones?
Think about all the perfect flaky baked goods you have eaten. Now, think where the flakes come from. You guessed it! The huge amount of butter in them makes that product flaky.
Butter in the Savoury Scones contains:
• milk fat 80%
• water 16%
• Salt 1.5-2 %
• Other milk solids 2%
The water in the butter evaporates when baking and pushes the dough up. Hence, along with baking powder, butter in savoury herb scone dough makes them rise.
Always use super-chilled to almost frozen butter before adding to the dough. Chilled butter means all the water content is intact in the dough. This further gives the scones a tall perfect height.
I prefer to use chilled butter, chilled milk and if using, then chilled eggs also. So, I measure these out first, put them in the refrigerator, and then weigh out other ingredients. Chilled butter, chilled milk, and chilled eggs. This will make your savoury herb scones much flakier and give them a good height.
How to serve the Savoury Herb Scones?
The cheese and herb savoury scones are quite flavourful on their own because it has:
• Mustard powder
• Pepper powder
• Cheese
• Dried Oregano
• Fresh coriander
While doing a research on different flavour of savoury scones, I came across Indian spiced Garam Masala Scones. The recipe of this is developed by Nitya Jain and the scones remind you of a rainy evening with hot cup of tea and these scones.
You can check the recipe of garam masala scones which would make your afternoon tea complete. You must also follow @beyond.curry to see other recipes by her.
You can also slice the scones from the middle and serve them with:
• Bacon or chicken (if non-vegetarian)
• Clotted Cream
• Cream Cheese
• Simple flavoured cheese spread and top them with chopped jalapeno and black olives.
• Cheese spread mixed with my homemade pesto sauce
The possibilities to pair these savoury scones are so many.!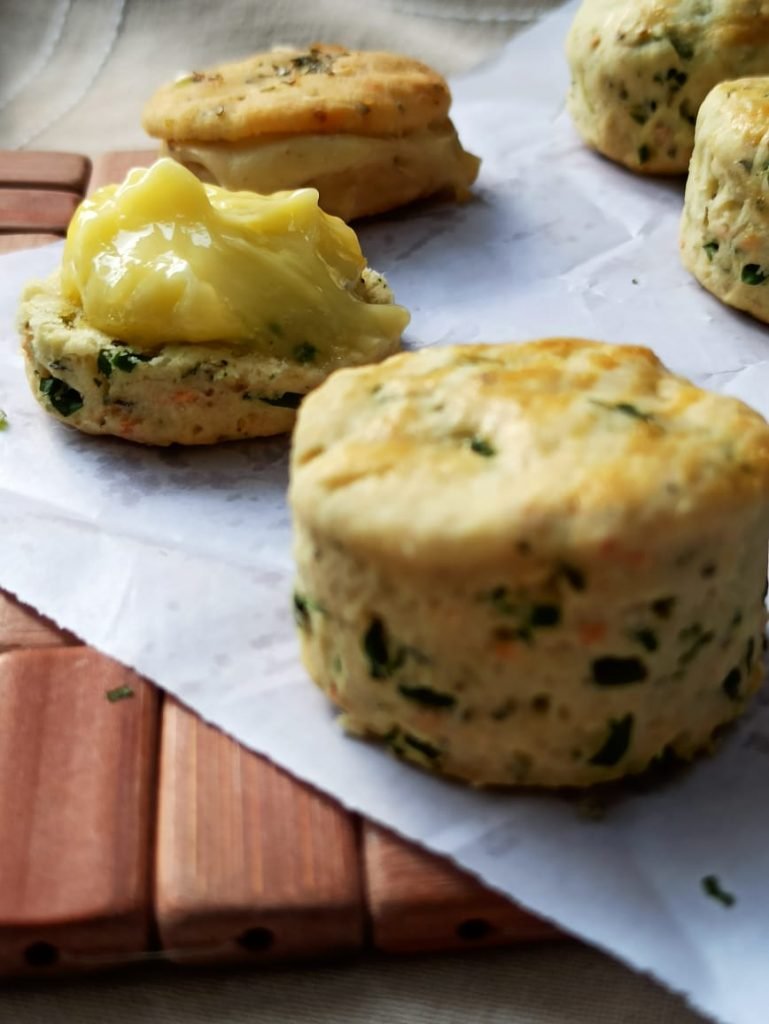 What happened to my scone?
I started experimenting on my savoury herb scone recipe. And I faced these major disasters:
1. The scones became too tough
2. The scones did not rise to the proper shape
3. The scones dried out
I found out that the savoury scones became tough because there wasn't enough butter in the dough. Also, once the dough came together, I over mixed and overworked the dough.
The savoury scones didn't rise well because:
• I put less amount of baking powder
• Used room temperature to almost melting butter
• Sheeted the scones dough very thin than usual
The reason for the scones drying out was over-baking. In order, to get a perfect colour on the top, I baked them for too long and also at less than usual temperature.
So, make sure you don't repeat my mistakes to make the perfect savoury herb scones!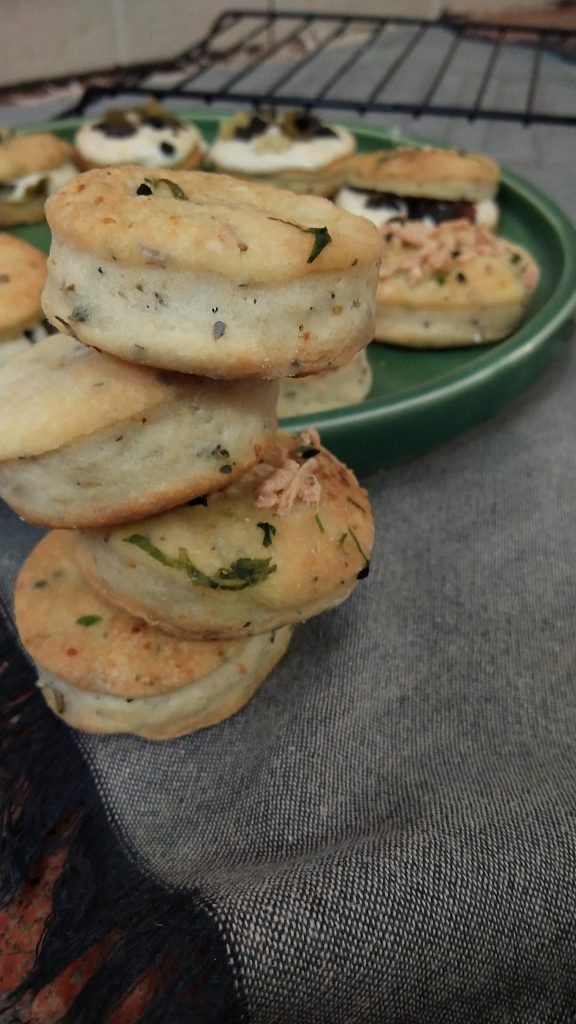 Storing and Re-heating
You can store the scones in an air-tight container and keep them in the refrigerator. It is advised to consume them within a day or two. Because the longer they are stored in the refrigerator, the faster they dry out.
Reheat the scones simply in the oven or microwave till warm.
How to make the best savoury herb scones?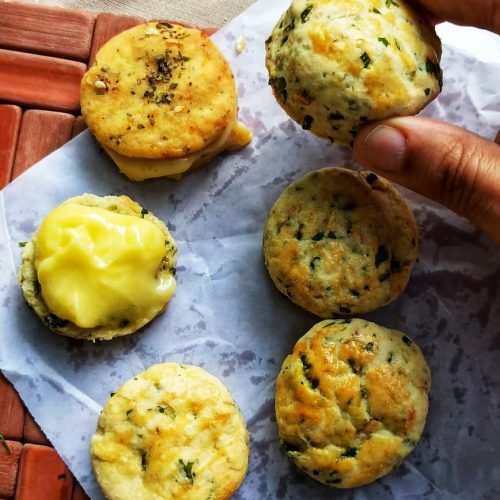 Cheese and Coriander Savoury Scones
These cheese and herb savoury scones are classic hi-tea menu item for a reason! Smother it up with butter or have it plain. Here's how you can make savory scones.
Equipment
Round Cutter

Parchment Paper

Baking Tray
Ingredients
100

grams

all-purpose flour

1

tsp

Baking powder

60

grams

Salted Butter

should be frozen and chilled

2

tsp

Grated Cheese

1

tsp

dried oregano

1

grams

salt

1

tsp

ginger garlic paste

2

tbsp

Fresh Coriander

finely chopped

2

grams

mustard powder

(optional)

50

ml

Milk

cold/ chilled

Flour for dusting

Milk/ egg for glaze

White sesame seeds (optional)

for topping
Instructions
Pre-heat the oven at 180 degree celciusfor 10 minutes.

In a bowl, add all-purpose flour and baking powder. Add in the chilled butter.

Rub the butter in the flourtill it forms a coarse crumbly texture.

Add in the cheese, oregano, salt, mustard powder, ginger garlic paste and chopped coriander. Mix it well.

To this, add the chilled milk and knead the dough justuntil it comes together.

Rest the dough by wrapping it in cling wrap and refrigerate for 10 minutes.

Lightly dust, the work surface with flour and using a rolling pin, roll out the dough.

The dough must be 0.5-1-inch-thickin height.

Cut out the scones using the round cutter.

Place the scones on abaking tray lined with parchment paper.

Glaze the top of scones with either milk or beaten egg.

Bake the scones at 180 degree celcius for 12-15 minutes. Till the top gains a light brown colour.
Notes
Do not over-knead the dough as it will make your savoury herb scones very tough.
The dough remaining after being cut out can be rolled, sheeted, and cut again.
When the scones gain light color on top and bottom, they are done baking.
To conclude
These cheese and herbs savory scones are perfect for your afternoon tea! This is a perfect savory scone recipe because of:
buttery mouthful taste
the tanginess from the cheese
the spiciness from the mustard, oregano, and pepper.
Do try them out and tell me how it goes.
Happy Baking!
Subscribe to Bakestermind and never miss an update!