Any pizza is incomplete without a tangy and spicy tomato sauce. It's like the most important part of a Pizza.
There are so many recipes that claim to be the best pizza sauce recipe. One often gets confused about which one to follow.
A classic tomato pizza sauce has tomatoes, onions, fresh basil, oregano, salt, and garlic in it.
But I make my ultimate homemade pizza sauce in under 10 minutes, with a little twist. I made the sauce:
with fresh tomatoes
no onions
in olive oil
with black pepper powder
with a bit of baking soda
and a good amount of ginger garlic paste!
And guess what? I bet you, this recipe is the best sauce for your next home-made pizza.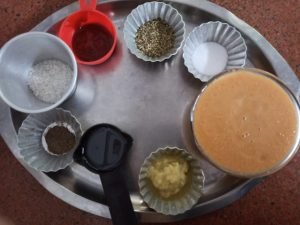 I used my garden-fresh tomatoes to make this sauce. But they were so sour. To reduce the acidity in the sauce, I added a bit of baking soda. The baking soda also helps in thickening my pizza sauce.
But, apart from pizza sauce, you can also use this creamy pesto sauce as a topping for your homemade pizza.
Here's how you make homemade pizza sauce from scratch
Homemade Pizza Sauce
This homemade pizza sauceis not the most reddest, but is garlicky, chilly and a perfect pizza topping. Thispizza sauce recipe can be made in under 10 minutes.
Ingredients
1/4

cup

olive oil

extra virgin

3

teaspoon

ginger garlic paste

200

grams

fresh tomato puree

approximately 3 medium tomatoes

2

teaspoons

dried oregano

1/4

teaspoons

black pepper powder

2

teaspoons

salt

1

tablespoon

sugar

1/4

teaspoons

baking soda

(Optional)

1/2

tablespoon

Chilli Sauce

1

tablespoon

Regular tomato ketchup
Instructions
In a pan or kadhai, heat olive oil on low flame.

Add Ginger, garlic paste and mix it till the ginger garlic paste turns abit brown.

Add in the tomato puree. Switch the flame to medium heat and mix again.

Add salt, oregano, black pepper powder, salt and add the baking soda.

When the puree starts bubbling up, add the chilly sauce and regulartomato sauce.

Cover the lid and cook for 5 minutes.

Once the oil separates from the puree, your pizza sauce is ready.

Switch off the gas. Cool the sauce completely.

Store the sauce in a glass jar and store it for 5-7 days in refrigerator.
Notes
Adding baking soda is completely optional
The colour will change to a deep brown colour. Don't worry the texture is perfectly fine!
To conclude
You must try out this quick and easy homemade pizza sauce which is made in under 10 minutes. With a few ingredients, you can whip up a perfect fresh sauce for your pizza. Also, try my homemade no-yeast pizza dough along with pizza sauce to make your next dinner delicious!
Happy Cooking!